NIAMSUG president and KMI engineer Mike Grant presented to the user group about how his company uses Autodesk Inventor for large assembly projects.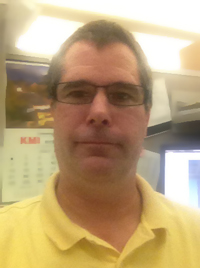 Mike Grant, mechanical engineer at KMI Systems, led a well-received demonstration and discussion to the Northern Illinois Autodesk Manufacturing Solutions User Group (NIAMSUG) on Thursday, Nov. 14 in Schaumburg, Ill.
Grant, newly appointed president of the group, demonstrated how KMI Systems uses Autodesk Inventor for large assembly projects. A lively discussion occurred during the demonstration, with several attendees sharing their issues and receiving practical advice from Grant and their peers.
"I'm now able to bring back what I've learned to work," said an attendee. "I also liked that we saw an in-depth example of how to better use Inventor." Attendees who participated in the meeting valued the real-world solutions to problems similar to what they were experiencing in their professions. They also appreciated the benefits of collaborating with other Inventor users.
A large number of Hagerman's customers and friends attended in support of their new president and to learn how he uses Inventor. "Mike did a good job," said an attendee. "I am looking forward to future meetings." One of Mike's goals as NIAMSUG president is to help facilitate and encourage open discussion of their ideas, problems, and solutions. Hagerman also intends to continue this trend of customers and professionals presenting to their peers how their profession uses Inventor.
NIAMSUG is a community-driven group of Autodesk manufacturing software users. The group is sponsored by Hagerman & Company, but it is not a forum for sales pitches or promotions. Hagerman provides the meeting venue and meal, and works with the group to plan the meeting content. The group meets quarterly at Hagerman & Company, Inc.'s Schaumburg location. For more information, including dates and times of future meetings, please visit www.hagerman.com, or contact Melanee Kretschmar at (847) 995-0639.