If you are using the Vault, you probably know the basic functions and features like check in, check out, copy design and search. But Vault has other features and customizations you might not be aware of. The customizations in this article are available in Vault Basic, Workgroup and Professional. If you use any version of Vault you can utilize them right now.
Show Working Folder Location
Let's start with something simple, that I recommend everyone use.
Go to Tools – Options – check the box Show working folder location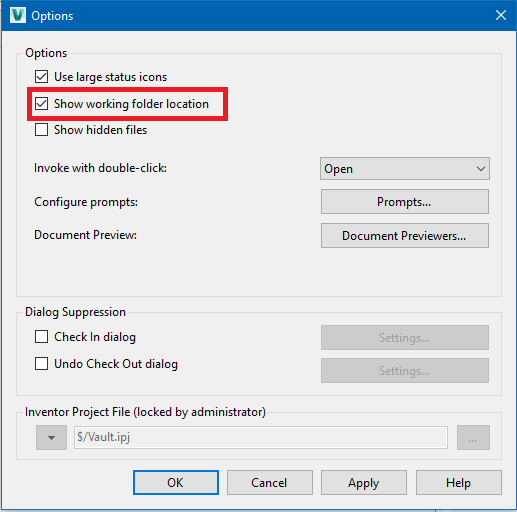 By selecting this option, you will see the local directory path to your object.

Add Properties
Out of the box, there are many properties that Vault doesn't expose in your Main Pane. One of them is DESCRIPTION. If you would like to view the DESCRIPTION property (or any other property) follow these steps:
Right click on the header row (or aka column heading) then select Customize View – Fields

Selecting Fields will open the Customize Fields dialog box that lists all the Fields (aka Properties) that Vault is tracking. Highlight Description (or any other property you wish to expose) and select Add – select OK – then Close. To re-order your columns, Move up or Move Down properties or you can drag the column properties in your main Vault view.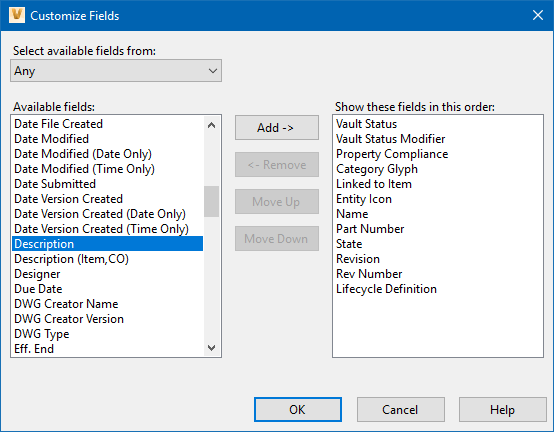 You should now see the DESCRIPTION property in your view.

Define Custom Views
Let's build on what we've learned so far. When adding a new property, we are actually changing our Default View. View options are located in the Vault Advanced toolbar pulldown. This will allow you to make efficient use of properties in your main pane.

Selecting "Define custom views…" will open up the dialog below. In my example, I have created 2 new custom views, named "Basic View" and "Detailed View".

Once you have created your own custom view, you can toggle between them using the pull down. Notice how "Basic View" shows different properties than "Detailed View".


Custom Filters
Let's take this a step further and customize the Detailed View some more. I am going to copy my Detailed View, but only show files that have "Stainless Steel" as its material. In the Advanced Toolbar pulldown, select Define Custom Views – highlight Detailed View – Copy – give it a new name – "Detailed View – Stainless Steel". Highlight this new view then select Modify – Custom Filters.

In the Custom Filters dialog, select your Property, Condition and Value then Add - OK. I selected the Material property, Contains as my condition, and typed in Stainless. I have now created another view that only shows those files that are Stainless Steel.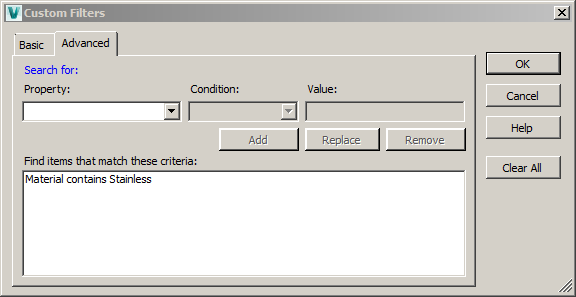 Here is what my custom views look like now. You can see the new Detailed View – Stainless Steel I've added.
Another way you can filter your view is to hover on a column header, then select the filter icon. This will list all the values in that column and you can select your value. In this case I would select Stainless Steel. Once Stainless Steel is selected, Vault will only display those parts that are Stainless Steel.