Autodesk Inventor® HSM Pro helps you achieve higher productivity, increased profits and shorter time-to-market, using an integrated design-through-manufacturing experience. With the release of Inventor HSM Pro, Autodesk's CAD/CAM bundle is making a true powerhouse for design-through-manufacturing integration.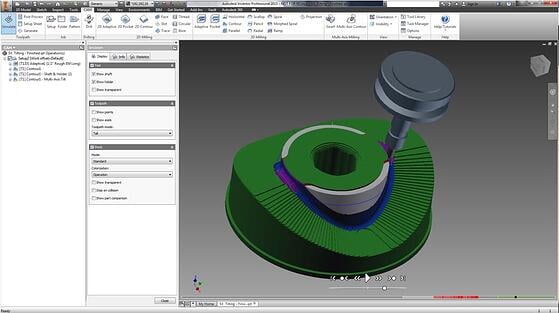 Included in the CAD/CAM bundle is a full license of Autodesk® Inventor® Professional. So, not only do you get the 2.5D, Advanced 3D and 5-axis machining operations; you also get the ability to utilize the simulation, FEA, Mold, and tool and die functions that are within Inventor Professional. This release of HSM Pro includes Adaptive Clearing 2.0 technology, which is the second generation of the high-efficiency roughing strategy used in the HSM Kernel to reduce valuable cycle time, decrease wear on tooling, and extend machine life.
Inventor HSM Pro is built on the next generation multi-core 64-bit CAM engine, which supports distributed toolpath calculations, and makes sure that maximum performance is retained. The Post Processor system is designed to reduce the time it takes to go from programmer to machine by processing 400,000 lines of code per second
5 Axis Contour and 5-axis Swarf multi-axis milling strategies allow users to utilize the 5-axis capabilities. Also, multi-axis tilt support has been added to the 3D Contour strategy to aid in completely utilizing the latest in 5-axis milling center technologies.

Another function that has been added to both Inventor HSM and HSM Pro, is the ability to compare the original part with what is being machined. This allows the programmer to validate whether the toolpaths created end in a high quality finished part and to make sure that all material is removed from the stock.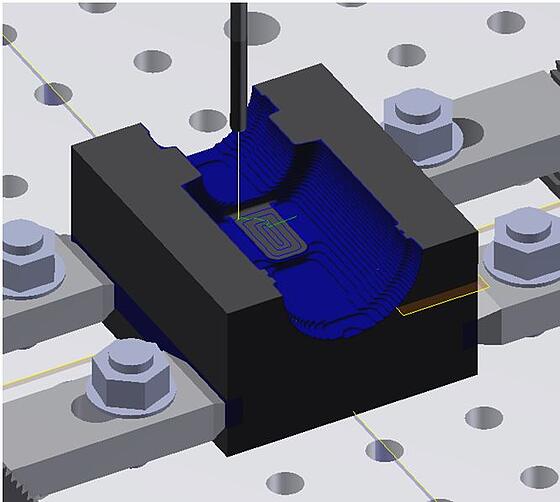 With toolpaths being fully associative to the part or assembly file, changes made post programming can easily go into the CAM Browser in the part/assembly and regenerate the toolpaths, without fear of losing any of the geometry selections and having to completely redo the programming.
So, whether you need simple 2.5 axis, or up to 5 axis, Autodesk Inventor HSM has you covered. This is a better solution, is faster and produces the top quality parts you strive for. For more information feel free to contact your Hagerman & Company representative, or visit CAM.Autodesk.com.
Submitted by Matthew Nichols, Manufacturing Solutions Engineer, Hagerman & Company, Inc.