Autodesk Revit 2014 includes a combination of new and enhanced features for all disciplines. I am going to focus on the platforms form improvements for all disciplines. At the end I will provide you with a more comprehensive list of New and Enhanced Features for all the disciplines in Revit 2014.
Non-Rectangular Crop Regions and callouts:
In this release you can change a rectangular crop region or callout view to a non-rectangular shape.
When you select a crop region there are two new features available on the Modify tab/ Mode panel (Edit Crop and Reset Crop features).
In this release you can display alternate dimension units along with the primary units for all permanent and spot dimension types.
To use the Alternate dimension options you will adjust the settings for the Dimensions in the Type Properties dialog box in the Alternate Units, Alternate Units Format, Alternate Units Prefix and Suffix in the Type selector options.

Alternate Dimensions: Display both at the same time.
Video: Alternate Dimension Units (2014)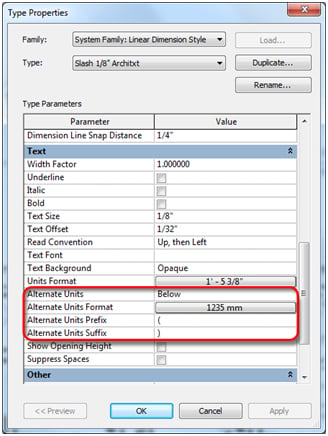 Stairs Enhancements:
Location line improvements
Run width improvements
Temporary/listening dimensions
Stair representation
Stair join improvements
Stair snap reference improvements
Stair landing direct manipulation improvements
Railing quality improvements
Video: Stair by Component Enhancements (2014)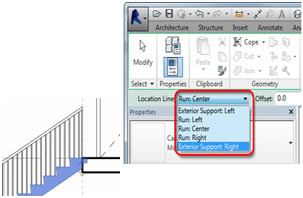 Dockable Window Enhancements:
Windows can also be grouped so that several windows (represented by tabs) occupy the same space on the screen.
Windows that can be docked include
Project Browser
Properties Palette
Reconcile Hosting Window
System Browser (MEP)
Room calculation Point:
Ensures that families are accounted for in the room calculations.
Add Room Calculation points to Family Types that are Room aware

doors, furniture, casework, specialty equip, generic models

Enabling the Room Calculation Point enables you to move the location of the calculation point to fall inside the required space.
The room calculation points also have to/from room functionality for doors so the you can better control how the door calculates which side is the To side and From side.
Video: Adjusting Room Calculation Points (2014)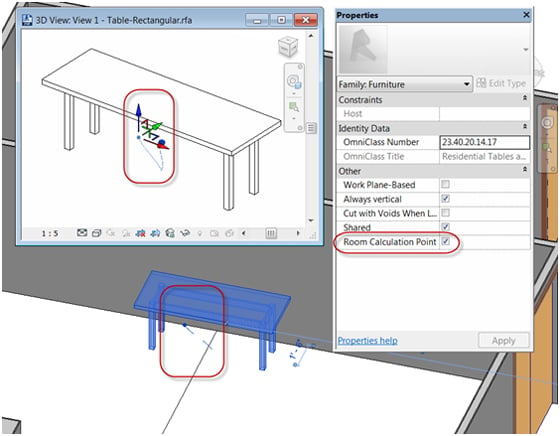 Schedule Enhancements:
Gain greater control of schedule formatting and increased access to data within BIM model
Enhanced Text for better customization, access to parameters, as well as text properties improvements
Table formatting improvements give you more control to make your schedules look the way you want.
You have the ability to display graphics in the header-section of the schedule
Conditional formatting improvements are now on the sheet and printed.
Improved data access, display, and relationships
Video: Modifying Schedules (2014)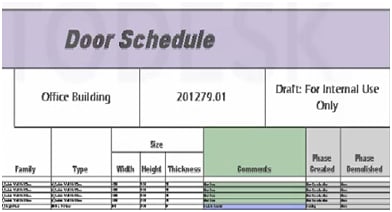 Selection Enhancements and Double Click Enhancements
Selection Enhancements: Improved control over the behavior of selected elements, in addition to basic selection filter for families the following are now available

Filter out Links
Select Underlay Elements
Select Elements by Face
Filter out Pinned Elements
Drag elements on the Selection

Double Click Enhancements; Increase productivity with quicker access to edit elements

Options (Options>User Interface> Double Click) enables Double functionality for
Families
Sketched Elements
Views & Schedules on Sheets
Groups
Component Stairs
Video: Selection Enhancements (2014)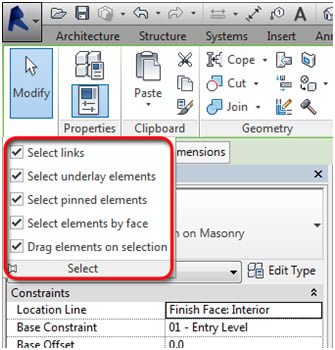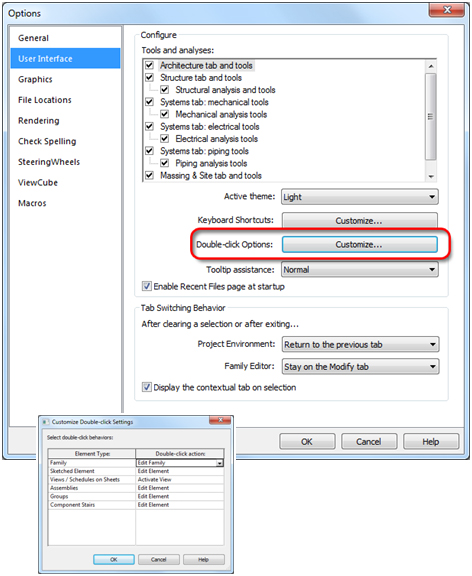 Split Elevations: Now work similar to split tool in Sections
Improve construction documents with support for common documentation practices
Manage elevation cut-line configuration
Exclude unwanted or overlapping objects in elevation
Now includes the Split Segment option as in the Section Tool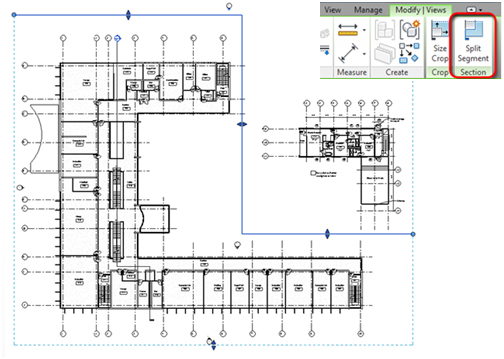 Temporary View Templates
Allows assignment of a temporary view without affecting the saved view state.
Select a view template to apply as a temporary state
The menu saves the last 5 view templates that have been used.
When mode is activated a frame is drawn around the view, titled "Temporary View Properties" to indicate that the view is temporary
Any property associated with view templates can be modified, but not saved

Reduce need for saving and maintaining working views
Will not affect views if plotted
Video: Temporary View Properties (2014)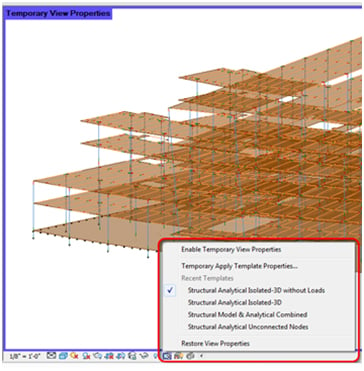 Parameter Variance for Groups
Gain more flexible data reporting
Vary the value of parameters assigned to groups
Increased support for COBie
Incorporate data into Operation and maintenance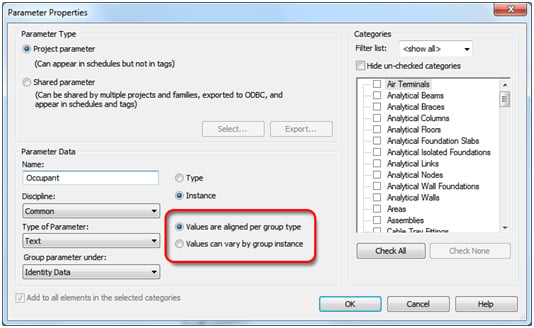 Inclusive list of New & Enhanced Features
Platform & For Architects
For MEP Engineers

Building Element Energy Analysis
Displaced Elements
Dockable Window Framework and Enhancements
Double-Click to Edit Enhancements
Interoperability Enhancements
Materials UI Enhancements
Productivity Enhancements
Non-Rectangular Crop Regions
Parameter Variance for Groups
Room Calculation Point
Schedules Enhancements
Selection Enhancements
Split Elevations
Temporary View Templates
View Navigation Performance
Stairs & Railings Enhancements
Point Cloud Improvements
Alternate Dimensions

Air Terminal on Duct
Angle Constraints
Cap Open Ends
CSV File Removal Project
Duct and Pipe Calculations to API
Plumbing Template
Split Systems

For Structural Engineers

Enhanced Analytical Model
Reinforcement Enhancements
Rebar Placement Constraints Customization
Improved Rebar Tagging
Improved Positioning of Beams and Braces
Join Geometry Ordering

Structural Analysis and Code Checking Toolkit for Autodesk Revit
Submitted by Alice Craig, AEC Solutions Engineer, Hagerman & Company, Inc.