In this article I will share the steps that I have used to show simultaneous assembly motions, using Autodesk® Inventor 2014.
With an existing Autodesk Inventor assembly on your screen, choose Environments/Inventor Studio to start the process.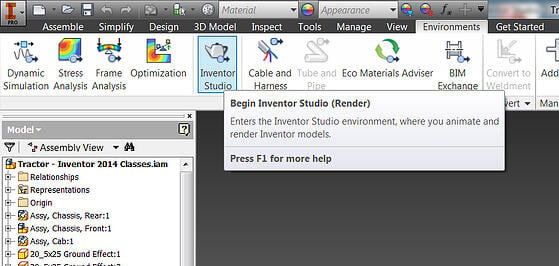 On the new "Inventor Studio" browser, right click on Animations and select "New Animation".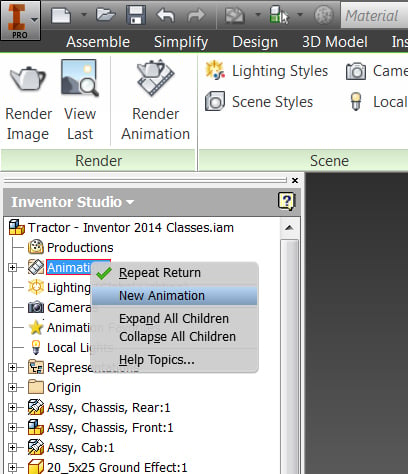 The animation will be called Animation1 or Animation2, etc.. Rename the animation to a useful name. Next, right click on your animation name and choose "Activate". This will generate a timeline and place it at the bottom of your screen.
On the timeline, there is a yellow pencil icon called "Animation Options". Select that icon to set the duration time of your animation. The default duration time is 30 seconds.
Now it's time to decide on your first motion. The assembly constraints on your parts can be put into motion. On the browser, expand your assembly and then expand the parts that should be involved in a motion. Select one of your assembly constraints. Notice the preview of the constraint in your drawing canvas.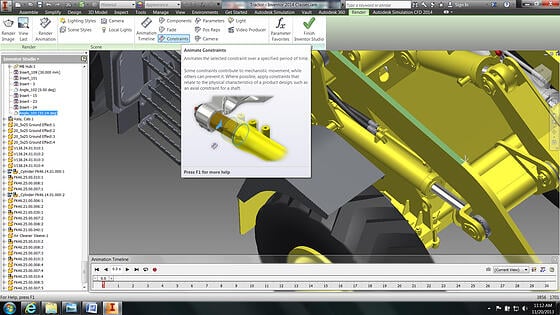 On the top ribbon, choose the command "Animate Constraints" and type in the starting and ending values of the constraint. In the "time" section of the command, select "specify". Then, only enter the start time and the end time for the prescribed motion. For example, 0 seconds to 5 seconds. Choose "okay" to complete your first motion. At this point, you can play the animation to check the look of your first motion.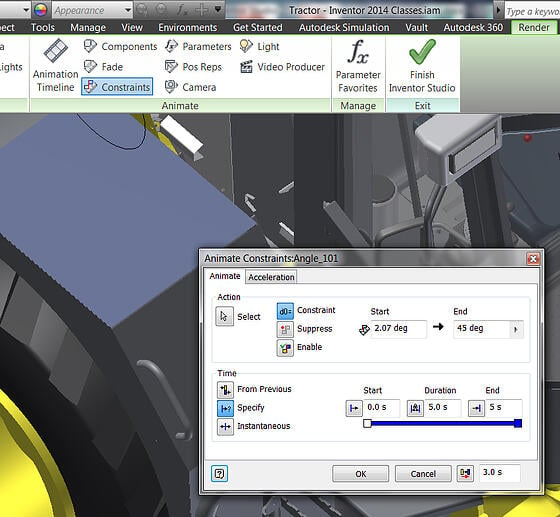 Now, to create simultaneous motions you repeat the process of finding an assembly constraint and using the same command "Animate Constraints". For simultaneous motion, you will specify a start time and an end time that are within the range of your existing motions. For example, one motion can be from 0 seconds to 15 seconds while a second motion can be from 5 seconds to 12 seconds. By repeating this process you can create a compelling presentation.
Finally, when your prescribed motions are working well, you can create an .avi file and share your presentation without having to send out your proprietary models.
submitted by Gary Bergero, Manufacturing Solutions Engineer, Hagerman & Company, Inc.