The Construction Industry Institute estimates that there is up to 57% non-value added effort or outright waste in previous construction business models. That translates to over $600 Billion in waste and costly delays in the construction industry each year.
It is also estimated that lack of interoperability between AEC software costs the industry another $15.8 Billion across the board in years prior to adoption of interoperable software solutions. Funds that could be used to make more efficient and sustainable projects, invested in expanding practices, purchasing new technologies and employee training, are being wasted with inefficient processes. Increasing project complexity and clients demanding more to be done with less as well as the need for teams to work remotely but remain connected are factors pushing the construction industry to discover new opportunities for increasing efficiency and productivity.
The adoption of BIM has raised more questions for the decision makers and project management than it has provided answers from pre-BIM workflows. Many assumed that shifting to a 3D design program was just a software change. The assumption was that BIM would fit within or piggy-back existing workflows that have been standard practice for decades. Even when design shifted from the drafting board to CAD back in the 80's, the end product and processes of producing 2D drawings and how they were used to construct projects were almost exactly the same as they were pre-CAD. The reaction from the industry at the time, was that CAD was just a drafting program and the mistakes in coordination still happened due to the lack of communication between trades and inaccuracies in drawings not being caught prior to construction.
A successful transition to BIM requires much planning and a completely different approach to project design and management. It requires development of new processes that support the coordination of all parties involved. Choice of project team members, design and collaboration platforms, in addition to new project delivery methods, become critical to managing an efficient and profitable building project. BIM means different things to each party involved but we will look at the Project Managers perspective and the things that should be considered when venturing into unfamiliar territory.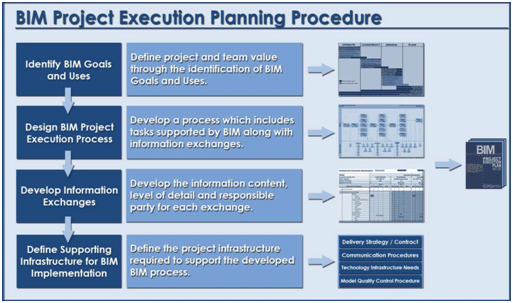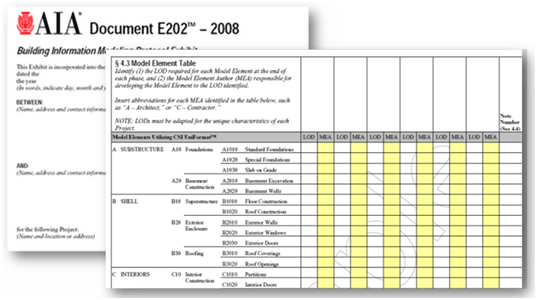 Many BIM guidelines exist and can be tailored to any type of project that is being produced and delivered in BIM. Identifying the goals of BIM in your project, developing and documenting a BIM Execution Plan that addresses project tasks, roles, responsibilities and deliverables is integral to a well-managed and lucrative project. While there are many different types of projects, each with their own conditions, this is a general overview of things Project Managers should consider when approaching a new BIM project.
Workflows
Building Information Modeling isn't just a program nor is it simply a 3D model. It is a database that contains not only the model elements but the vast amounts of information that makes up the project. Whereas previous workflows relied on multiple file formats and disconnected processes that quickly became out of sync when changes were made, BIM workflows allow for a much more dynamic and synchronized approach to project management.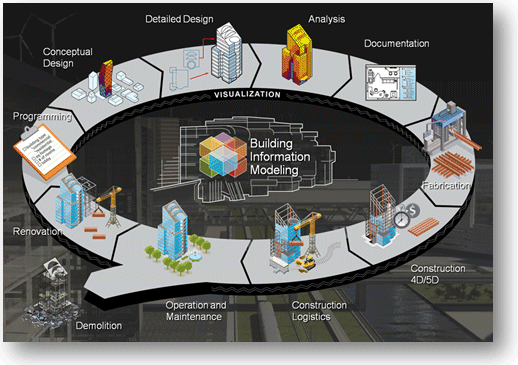 Model creation, Visualization and Simulation utilities can help ensure that the project is staying within guidelines established by owners, architects, engineers and sustainability managers. Documentation and coordination tasks are done within a suite of interoperable programs and information can be shared with a broad range of people within a project team. Built in communication and efficient conflict resolution tools can ensure that all information remains part of the project and can drastically reduce response and resolution times and impact project timelines.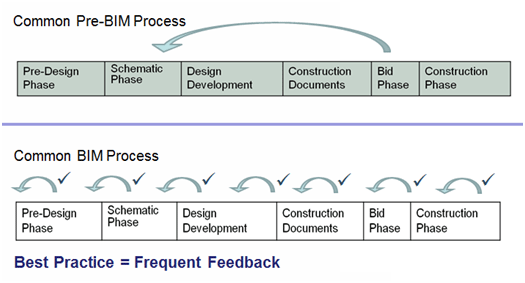 The phases of a BIM project are also much different than a typical Pre-BIM process. The Schematic Design phase is longer for BIM projects and many decisions are being made earlier in the project due to the amount of usable data the model contains and the ability to explore multiple designs quickly. This extended initial phase is usually much more effective since many Pre-BIM projects would have to revisit the early design after DD and CD phases were completed, resulting in 'back to the drawing board' reworking when designs were not met with approval or were deemed too expensive.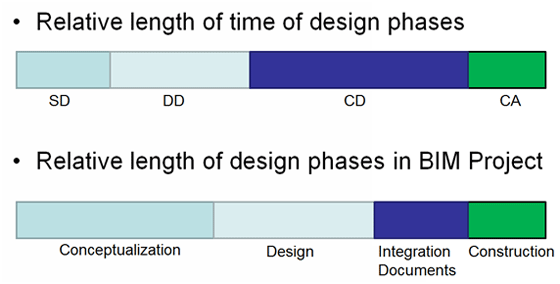 BIM allows for much more streamlined and informed decision-making and reduces wasted efforts. Design Development usually requires a little more time than Pre-BIM however, much more information is being embedded into the model and many cost and coordination issues are addressed prior to construction. Design and coordination driven changes and the dreaded Value Engineering tasks can be reduced, making the next phases go much smoother.
The next most noticeable change is the relatively short Integration Documents phase in comparison to Pre-BIM. Since the documents are part of the model and are coordinated with the current status of the design, document reviews, when changes are needed, have been greatly reduced or eliminated altogether. The ID's can also be produced with fewer, more highly skilled personnel than the old days of CAD when an army of 'warm bodies' were needed to generate the many detailed drawings required for project construction.
The BIM process will impact almost every facet of the project from the initial discussions to design and construction, to well after the keys are handed over to the owners and facility managers. The information contained in the BIM model will evolve during each project phase and can be accessed and sorted in ways that make it much more effective to manage assigned tasks. Project programming and specification-driven design being done in Revit can be shared to Navisworks for coordination and creation of scheduling models that maintain interoperability with a vast array of coordination, communication and data management solutions offered by Autodesk on mobile and cloud based platforms.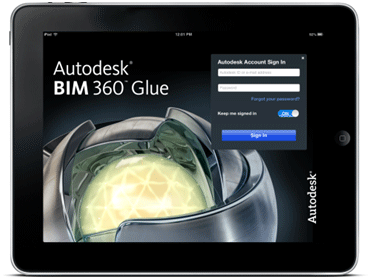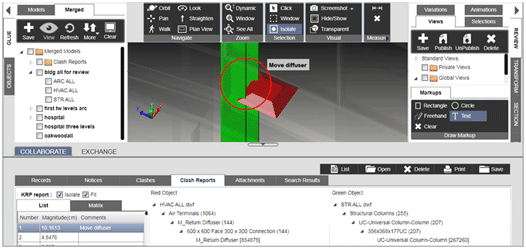 Roles
The next major consideration for a Project Manager is the selection of their team and what roles each will play throughout the project lifecycle. Factors such as modeling proficiency, technical aptitude and leadership skills are things that should be analyzed when choosing your BIM team. Employee training as well as coordination with HR should be considered when hiring BIM experienced people to add to your team. It is usually a good thing to have the team train together just-in-time to begin the project. In fact I have seen team training double as project set-up where a BIM/Revit trainer would work directly with the PM and project setup was done as a function of the team training. This helps the team get more comfortable with the project as well as the software and processes that many will be unfamiliar with. It can also help facilitate team building that will be crucial as the project develops. You will often identify those people within your organization who possess natural aptitudes during training and I have seen people that have risen to leadership roles based on abilities discovered during training.
The organization of your BIM project will be the responsibility of your team. The design of the model and factors such as projected model size and work-splits should be carefully considered when working with extended teams that may be in different locations and on different parts of a project. It is common to have a model split by Core, Shell and Interiors, all with separate teams in different locations coordinating daily to contribute to the larger BIM model. Having trust in your people to perform to the requirements of your project is based on everyone knowing what their role is and what they are responsible for. Let's look at a few skill sets and how they fit into the project structure.
Project Manager – No Revit experience required usually but will need to use mobile technology and data exchange applications to communicate with his team. A PM may need to know how to navigate a model and create schedules or extract other BIM data but there are short classes on the functions of Revit they will need to use. The PM will be responsible for specifications and keynotes that will be added to the project and will need to work with his or her team to get them properly entered into the design model. The PM will also coordinate with the other contributors to the design such as their Structural and MEP counterparts on the extended BIM project team.
Design Team Leader – This will be your most experienced Revit/BIM team member and will work directly with PM/PA on initial model setup. They will work directly with IT and Design Applications staff to overcome technical challenges or help specify equipment and infrastructure requirements for new programs/processes. This person will work directly with your team and should be involved in meetings with clients and contractors to establish relationships with the players in the project they are responsible for. They need to be able to 'rally the troops' when required and be able to make decisions within given latitudes set by the Project Manager. They will be with the project through much of the lifecycle of design and through construction assisting the coordination of other BIM players.
Modeler II – This will be your next most experienced Revit/BIM team member. You will need at least 2 people in this position throughout the project, but more should be considered during the Design phase. They will oversee model management, maintenance and archiving. They will create and manage project families and communicate with the other team members when families are needed to avoid duplication or versioning of similar models. Other BIM duties can be delegated to this person.
Modeler I – This will be your least experienced Revit/BIM team members. He or she will be responsible for setting up views, sheets, details etc. and will be responsible for archiving, model clean up and generation of exchange files such as NWC files used in collision detection or MAX files for visualization. You can fill the rest of your team out with this level of modeler and more can be added as the CD phase is entered and drawings are being generated. Many experienced CAD operators are qualified for this position after basic Revit training and should already poses good drafting skills.
BIM/VDC Manager – This will be a high level position with a deep understanding of BIM and how it affects the project. He or she will have some involvement in initial phases and may assist model setup but their role will ramp up during Design Development and should be consulted if there is a need to split a model or when other BIM players are contributing to the project model. They will perform collision avoidance and work with the rest of the team to make whatever changes are required to eliminate the conflict by coordinating with other disciplines. They will work closely with the PM during Construction Administration and report needed changes back to the PM/DTL for as built model updates. It is common for this person to manage multiple projects in various phases simultaneously.
Deliverables
When discussing project delivery, the old design-bid processes must be cast aside. The Integrated Project Delivery method is a shift from the traditional processes and carries a whole new vocabulary of project terms. The traditional phases are modified to better describe the activities associated with a BIM project.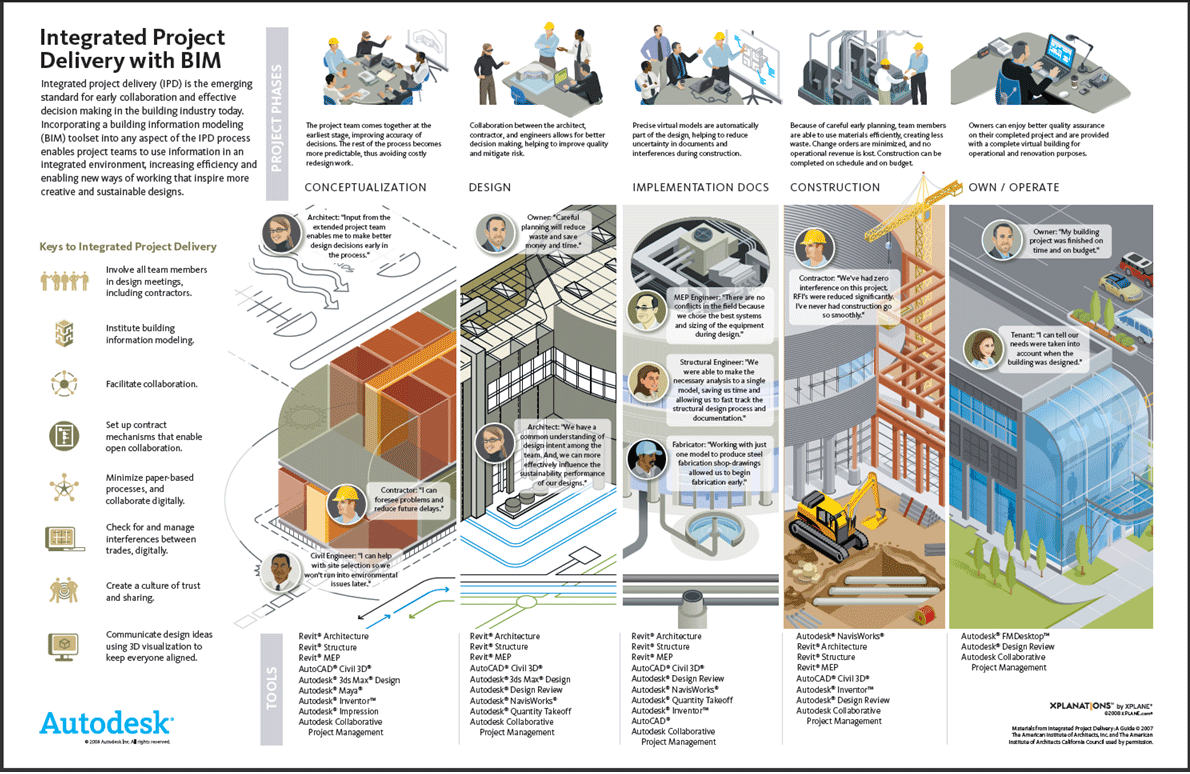 The deliverables associated with early phases are done with electronic exchange and interoperability with a variety of applications, schedules and processes should be established with the stakeholders in BIM documentation in the very beginning of the project. Acceptance of electronic formats is expanding and we envision a near paperless future in project delivery. Electronic data exchanges are utilized for most submissions and when needed, prints can easily be published and shipped to requesting parties. A vast majority of the project data is delivered in the form of a model and Level of Development definitions have been established to simplify data exchanges.
Level of Development, also referred to as Level of Detail, is a way to describe how much detail the BIM model contains. When used with a Model Progression Spec, it helps to define what information is needed and for what purpose. Below is an overview of the different LOD definitions and what each is expected to contain as defined by BIM Forum.
LOD 100 – The Model Element may be graphically represented in the Model with a symbol or other generic representation, but does not satisfy the requirements for LOD 200. Information related to the Model Element (i.e. cost per square foot, tonnage of HVAC, etc.) can be derived from other Model Elements.
LOD 200 – The Model Element is graphically represented within the Model as a generic system, object, or assembly with approximate quantities, size, shape, location, and orientation. Non-graphic information may also be attached to the Model Element.
LOD 300 – The Model Element is graphically represented within the Model as a specific system, object or assembly in terms of quantity, size, shape, location, and orientation. Non-graphic information may also be attached to the Model Element.
LOD 350 - The Model Element is graphically represented within the Model as a specific system, object, or assembly in terms of quantity, size, shape, orientation, and interfaces with other building systems. Non-graphic information may also be attached to the Model Element.
LOD 400 - The Model Element is graphically represented within the Model as a specific system, object or assembly in terms of size, shape, location, quantity, and orientation with detailing, fabrication, assembly, and installation information. Non-graphic information may also be attached to the Model Element.
LOD 500 - The Model Element is a field verified representation in terms of size, shape, location, quantity, and orientation. Non-graphic information may also be attached to the Model Elements.
There are other deliverables, associated with a BIM project that are beyond 3D model information and should be defined at the beginning of the project. 4D Scheduling and 5D Cost projections can facilitate construction resource planning to determine resources needed for labor, equipment and financial requirements throughout the entire project. Owners will take the BIM model and use it for maintenance and operations and will want to keep their model up to date. When the time comes in the future to expand or demo a project, the BIM model will already be there and those projects will go much faster and will help to realize a long term relationship with the owners.
There are many sources for BIM planning and project delivery and Autodesk® offers a full line of BIM enabled applications to design, coordinate and manage even the most complicated projects with complete confidence.
Autodesk, Autodesk BIM 360, AutoCAD, ATC, Buzzsaw, Civil 3D, DWG, Navisworks and Revit are registered trademarks or trademarks of Autodesk, Inc., and/or its subsidiaries and/or affiliates in the USA and/or other countries. All other brand names, product names, or trademarks belong to their respective holders. Autodesk reserves the right to alter product and services offerings, and specifications and pricing at any time without notice, and is not responsible for typographical or graphical errors that may appear in this document. Images courtesy of Autodesk.
© 2014 Autodesk, Inc. All rights reserved.
submitted by Chris Weatherford, AEC Solutions Engineer, Hagerman & Company, Inc.