October brought Revit users more than the usual fall traditions of carving jack-o-lanterns and trick-or-treating. Autodesk has provided a treat of its own to students and Autodesk subscribers with the Revit 2017.1 Update release. Named the R2 release in previous releases, this "dot one" release follows its tradition with a little something for everyone.
Dynamo Player / Updated Dynamo

One of my favorite enhancements is the new Dynamo Player located on the Manage tab. What is Dynamo? Dynamo is a visual programming tool accessible to both programmers and non-programmers. Personally, as a non-programmer, it was just what I needed to begin scripting my own custom behaviors for Revit. The Dynamo version installed provides new nodes for more Revit functionality and better list management. If you're new to Dynamo and visual programming, don't worry. There are a few scripts ready for you to use in the Dynamo Player that are sure to get you thinking of other possibilities. If you are already a Dynamo user, the player will make your scripts readily available to anyone on your BIM team. Head over to the DynamoBim page for information, downloads and tutorials.
Import 3D Shapes
This mid-year release expands Revit's 3D model library with the inclusion of Rhino and SAT files. It was possible to import SAT files in previous releases, but this new capability allows you to assign a Revit category to your model on import. This provides greater visibility control, element overrides, scheduling, and properly cut sections. No material assignment yet, but I'm hopeful that will come with future improvements.

Repair a Corrupt Central Model
Hopefully you won't need this next enhancement, but in the unlikely event that your model becomes corrupt, Revit detects the problem and prompts you to repair (non-workshare environment) it or notifies the users (workshare environment). This can be very useful in fixing problems immediately instead of sending your files to Autodesk support.
High Resolution Screen Support
For anyone using newer UltraHD displays, you will now be supported in Revit for greater picture quality and clarity. The Revit user interface is scaled to be clear with high DPI settings above or equal to 200%.
Model in Perspective Views
Listed as an architectural enhancement, but includes structural elements too, is the new ability to model in a perspective view. You can add geometry, align, move, copy and rotate. There are no changes in the navigation of perspective views, so I would use this feature for quick small changes while you are in a perspective view and leave major changes to ortho, plan and section views. There is no support for MEP as the system tab remains greyed out in perspective view but, again, I'm hopeful for further development of this new enchantment.

Energy Optimization

As we strive to elevate our designs for performance and energy efficiency the Energy Optimization tools found on the Analysis tab can provide fast, clear and reliable guidance from concept to operation of new and existing buildings. Energy Optimization automatically creates and energy model based on your Revit model. It is uploaded to Insight 360 where DOE 2.2 and EnergyPlus simulation engine are used to provide an Energy Performance Analysis that represents many potential outcomes in one report. Building energy, heating, cooling, daylighting and solar radiation simulations are all available to you. Get all the details about this subscription benefit at Autodesk Insight 360.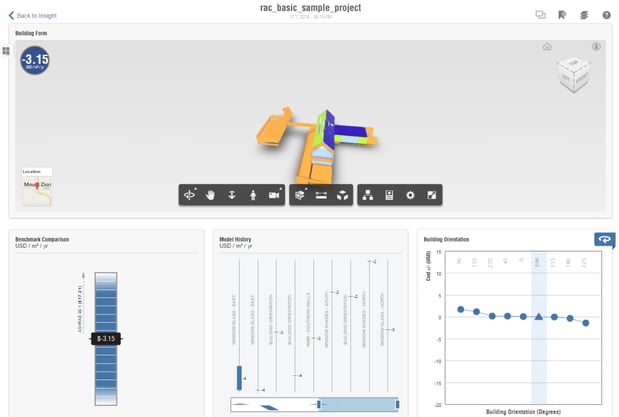 Railings
This new feature is something of a hidden gem. Nothing extravagant, just a simple interface addition that will improve useability. When creating railing in the past, you couldn't access the nested Top Rail and Hand Rail type settings from the Railing Type Properties dialog box. You would have to close the Railing dialog box, tab-select the handrail or top rail, and then edit their properties. Now you can open the Top Rail and Handrail properties dialog by selecting a hidden link button on the right side of the type selection pull down. The button only appears after you have selected the pulldown, so its not immedialty apparent. You can then make your changes, save, and continue editing the Railing type.


LED Light Fixtures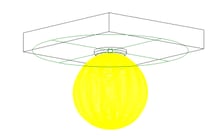 Revit 2017.1 also includes some new content. This is an additional intall that happens quickly and silenty to add the content to your exiting library location (%systemdrive%\Program Data\Autodesk\RVT 2017\) unless you specify differently. The LED fixtures will be located in the Lighting\Architectural\Internal folder. They are ready to use in you models and renderings. The LED families use accurate LED IES files for realistic and high quality results.

These are just a few of the new features and enhancements found in the Revit 2017.1 update available only to students and Autodesk subscribers. If you are already running Revit 2017, the upgrade is quick and will not disrupt any exisiting project work. You can install using the Autodesk Desktop App or from your Autodesk Account. For a complete list of all the enhancement, head over to the Autodesk Knowledge Network.