If you or your company imports/exports neutral cad files like (stp, step, stl, sat, iges, etc.) with outside vendors there may be another, better and easier option. Did you know Inventor can open native model files from Solidworks, Pro E, Catia, etc.? Meaning, you don't need to "translate" it to a neutral cad file.
Launch Inventor, then select OPEN – FILES of TYPE – you will see all the different file types Inventor can open.
Once the file is open, you will be presented with this dialog box: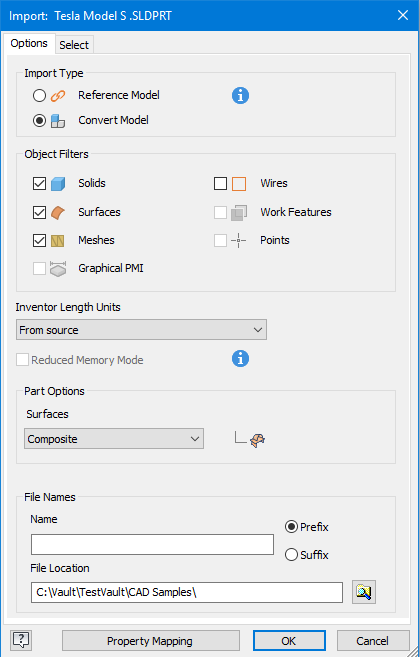 The import type options can be very useful, depending on what your role is with the imported files.
Reference model – Select this option if you are not responsible for updating the files or if you are expecting further changes from your vendor. There will be a direct association between the Inventor model and the reference model. Similar to a part in an assembly, any changes to the reference model will be reflected in the Inventor model.
Convert model – Use this option if you do need to edit the model in Inventor and will most likely be a onetime import.
A key difference between Reference model and Convert model is that the Reference model option will not create new files after the initial import. On the other hand, Convert model always creates new files.
Take a look at the SELECT tab. Here you can get a preview of the model with LOAD MODEL, then decide what geometry you want to include/exclude.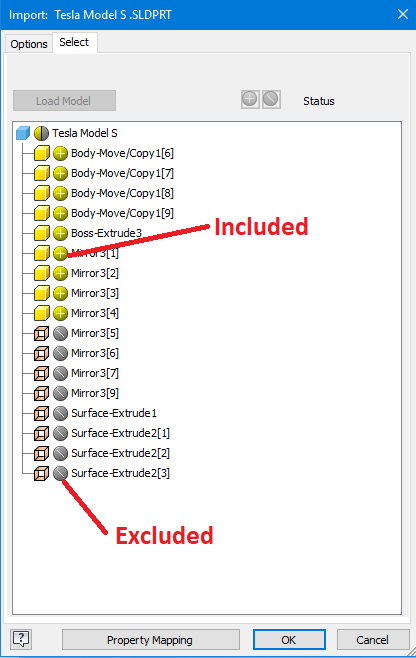 Inventor can open many cad formats. Likewise, other cad applications can open Inventor files natively. For example, Solidworks can open an ipt and iam! The only catch here is, the application that is opening the file has to be newer than the file being opened. In other words, Inventor or Solidworks 2019 cannot open files that were created in 2020.
The next time you are working with your vendor, ask them "Hey what cad application are you using?". You might find that you can start sending native files to each other and save the time it takes to import/export neutral cad files.