Autodesk discovered a mistake with the AutoCAD 2018.0.1/AutoCAD LT 2018.0.1 release that will cause the software to expire and no longer start on June 1, 2017. The issue was quickly resolved by releasing the AutoCAD 2018.0.2/AutoCAD LT 2018.0.2 update.
As this update fixes a defect that would cause the product to not start, it is critical for users who installed the initial 2018.0.1 Update to install the AutoCAD 2018.0.2/AutoCAD LT 2018.0.2 Update as soon as possible and before June 1, 2017.
Here's how to do so in three easy steps:
Step 1: Sign in to your Autodesk Account
Step 2: Choose Product Updates on the MANAGEMENT page.

Step 3: You will see the option for the AutoCAD 2018.0.2 or AutoCAD LT 2018.0.2 Update. Pick the option that is applicable to your product, download and install it. The AutoCAD 2018.0.2 Update applies to the products listed below*.
Important Notes:
The 2018.0.1 version is listed in About dialog for AutoCAD 2018 and AutoCAD LT 2018 as version O.61.0.0. Once updated to the 2018.0.2 version, it will be shown as O.72.0.0.
If you do not install the AutoCAD 2018.0.2 Update by June 1, 2017, the product will not start and will display the following pre-release product error message: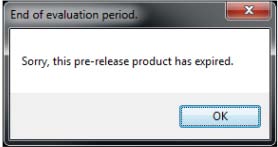 For users who never downloaded the 2018.0.1 Update, the originally released version O.49.0.0 does not exhibit this problem, and will work as expected past June 1, 2017. Even then, we still recommend updating it to the latest version, which is currently 2018.0.2 (displayed as O.72.0.0 in About dialog box). We apologize for the inconvenience. You can find more information about this update here. For any additional questions, please reach out to us by choosing Support in the upper right-hand corner of the MANAGEMENT page in your Autodesk Account.
*AutoCAD 2018.0.2 Update applies to:
AutoCAD® 2018
AutoCAD® Architecture 2018
AutoCAD® MEP 2018
AutoCAD® Mechanical 2018
AutoCAD® Electrical 2018
AutoCAD® Map 3D 2018
AutoCAD® Civil 3D® 2018
AutoCAD® Plant 3D 2018
Advance Steel 2018
AutoCAD LT 2018.0.2 Update applies to AutoCAD LT 2018 only.
As a quick reminder, the Autodesk Desktop App introduced last year is an AutoCAD companion application that delivers security patches and updates for all versions of Microsoft Windows-based Autodesk products from 2015 on, as well as relevant learning content. More information about how it works is available here.