Autodesk has announced a new bundle for their HSM products. They have consolidated HSMWorks and Autodesk Inventor HSM into a simplified new offering called Autodesk HSM. This consolidation will provide more software value to customers.

There will now be just one product, Autodesk HSM, and two subscription options that will serve both our Inventor and SolidWorks clients.
Autodesk HSM Premium
Autodesk HSM Ultimate
Within each bundle, customers will receive assets for the following product levels: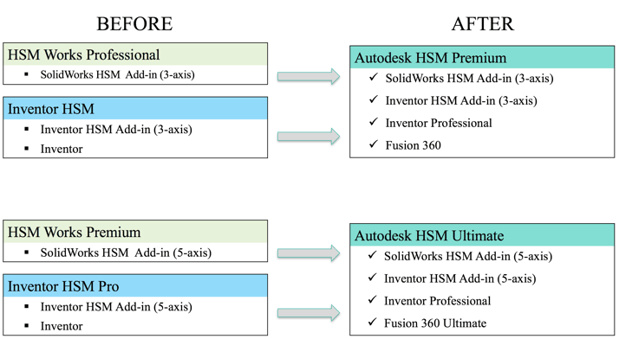 Your yearly subscription pricing will stay the same for both new and existing customers while providing additional products. Please note that the free 2.5 Axis plug-ins for Inventor and SolidWorks will continue to be available.
What I found compelling is that both offers now include Inventor Professional. With that, not only do you get the CAM software but with Inventor Professional you will also receive FEA, Tube & Pipe and Cable and Wire harness functionality. So if you need to add a seat of Inventor, and already have a CAM system in place, why not go with the HSM bundle. You'll get your Inventor software (the Professional version) and you can also check out HSM. It is an excellent CAM solution, easy to learn, and lightning fast.
Please note that you are not required to do anything. Subscribers and maintenance plan customers should receive an email communication from Autodesk in November explaining that their HSM offering will be automatically upgraded and will accessible from Autodesk Accounts. Wait for that email before looking for your software.
If you have any questions, concerns or comments about the new bundle please reach out to us. We are here to help.