A subtle new feature has been added to the Measure tool in Autodesk® Inventor® 2022 -- the ability to continually display "Dual Units" when using the Measure tool. Before 2022, this setting was only stored in your current file. Now in 2022, the setting is stored in the application.
Start the Measure tool – show Advanced Properties – then use the Dual Units pull-down menu to select your secondary unit – select Done.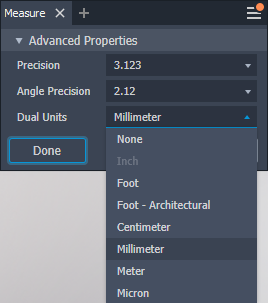 Once you display the secondary unit, now that this setting is stored in the application, it will remain in your current session and even after closing Inventor and starting a new session.
If you are using a version before 2022, the Dual Units setting is only stored in the current file. But there is a solution. Open your template, and change your measure settings using the same steps as I've shown above. Save and close your template, and it will be stored there. The image below is from Inventor 2021.