Chances are you already have cloud storage. However, if you need 5Gigs of more cloud storage, you may want to consider using Autodesk's A360 Drive.
A360 Drive, A360 Desktop, A360, BIM360, Fusion Team, Fusion 360
Before getting into details about A360 Drive, let me clarify the different options. A360 Drive, A360 and A360 Desktop are completely different services. A360 Drive is cloud storage that Autodesk provides for free. A360 is a service that has been rebranded into 2 subscription services, BIM360 and Fusion Team. If you are in the AEC industry you'll want to use BIM360. If you are in the manufacturing industry, you'll want to use Fusion Team. BIM360 and Fusion Team provides cloud storage but also includes collaboration tools. As of June 19, 2018, A360 Desktop is a DISCONTINUED service. Oh…and let's not forget Fusion 360 which is a cloud-based CAD/CAM/CAE tool.
A360 drive – 5 Gigs of free cloud storage
A360 Desktop – discontinued/retired product. Was responsible for syncing your desktop with A360 Drive
A360 – split/rebranded into BIM360 and Fusion Team
BIM360 – paid subscription cloud storage with integrated collaboration tools for the AEC industry
Fusion Team – paid subscription cloud storage with integrated collaboration tools for the manufacturing industry
Fusion 360 – CAD/CAM/CAE cloud-based tool
**Autodesk Desktop Connector – syncs BIM360 and Fusion Team with your desktop
Setup A360 Drive Account
Now that you are experts on Autodesk's cloud services, let's get into detail about setting up and using your A360 drive.
If you have an Autodesk account with your current company, you can go to https://a360.autodesk.com/drive/ and start utilizing your cloud storage. Otherwise, you will first need to create an Autodesk account at http://manage.autodesk.com. Once logged in you'll be presented with the page below. Clicking on ACCESS NOW will take you to the A360 Drive page.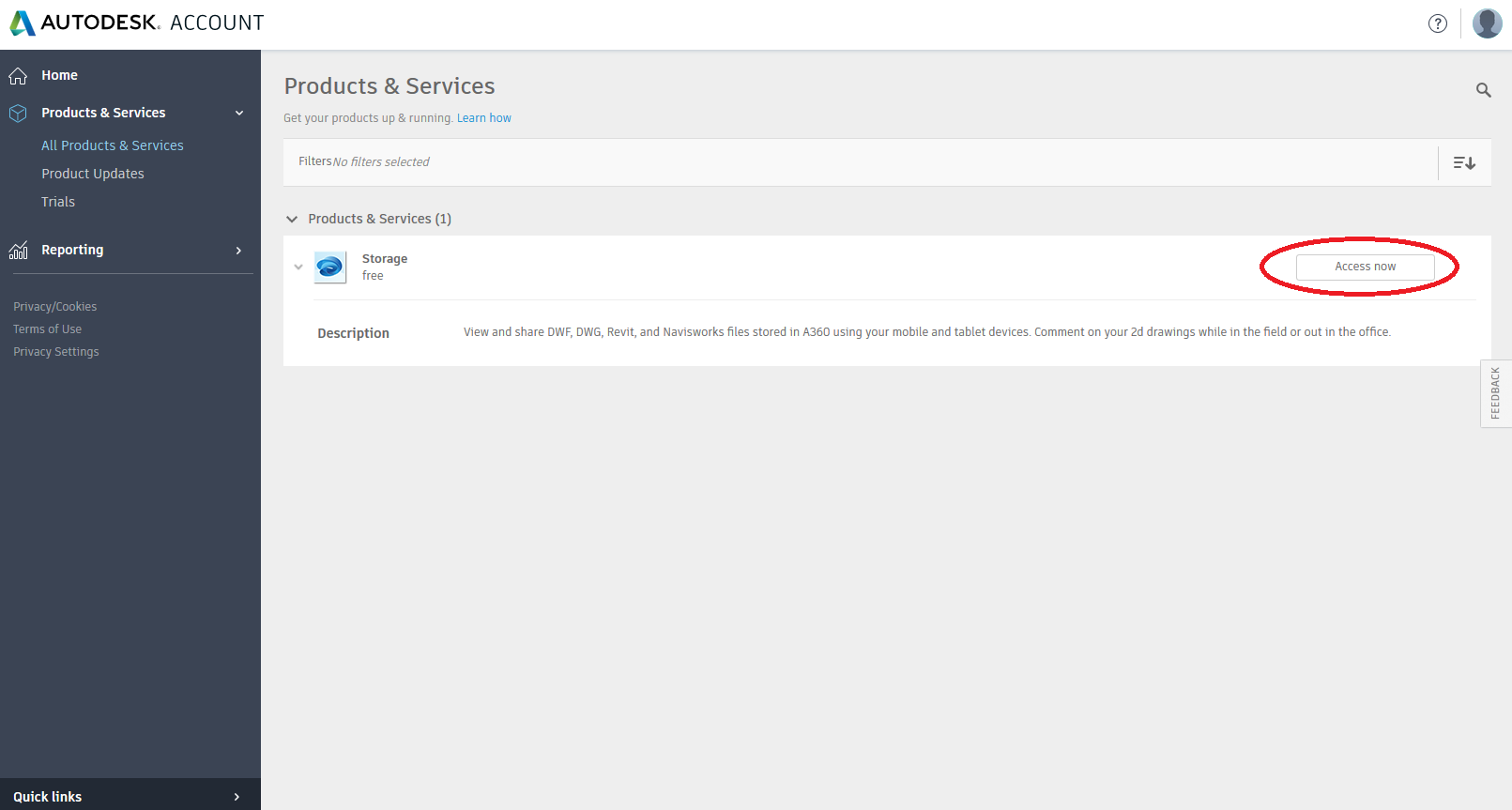 Once you're at the A360 page, you can create folders, share, download, upload, etc…most of the functionality you would expect.
No Desktop Option?
Unfortunately, at this time, there is no desktop version with A360 Drive. There is no folder on your computer that can sync automatically with A360 Drive. As I mentioned earlier A360 Desktop was the syncing tool for A360 Drive which is now discontinued. Autodesk does offer Autodesk Desktop Connector but it only syncs with Fusion Team and BIM360. If you or your company needs cloud-based collaboration tools with desktop syncing, take a look at Fusion Team (for manufacturers) or BIM360 (for the AEC industry).
Since there isn't desktop syncing with A360 Drive, it does make it less attractive than some other services. However, 5Gigs free? Who doesn't like "free"? …and can't we all use more cloud storage?