Folks using the Meridian PowerUser client software for the first time can quickly become overwhelmed, given the vast feature set that the application provides. A couple of simple client-side configuration changes can make a big difference in a new user's perception of the value of the application and in the user's ability to make productive use of it quickly.
Most of us like our applications to remember where we were the last time we used them so that we can quickly pick up working where we left off. The Meridian PowerUser does offer this feature, but not by default. Here we describe how the user can enable both this feature and a closely related feature to make using the application much more intuitive.
Launch the Meridian PowerUser client and click on the View menu, then click the Options… item at the very bottom, as shown below.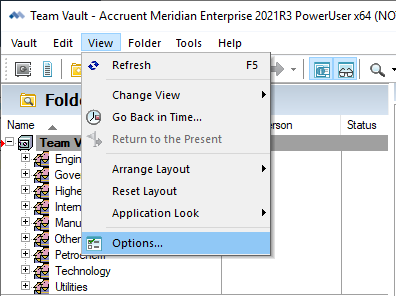 In the General tab of the resulting dialog, note that both Startup checkboxes remain unchecked: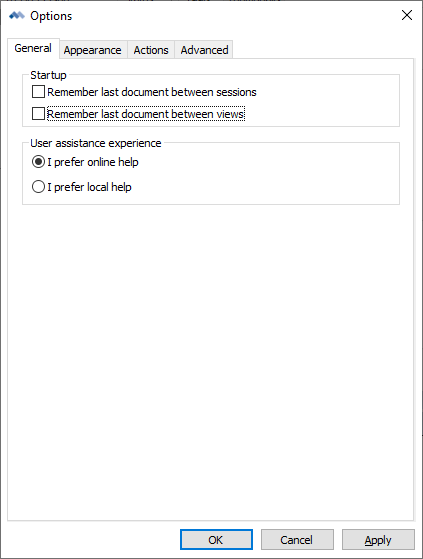 We highly recommend that each user check both of them for the reasons given below.
Remember Last Document between Sessions
When a user opens a Meridian vault for the first time, the Meridian PowerUser will always start at the root level of the "Folders" view. Depending on the vault's configuration, additional Navigation Views may be defined. The system will automatically remember which Navigation View was last used the next time the user launches the application. However, if the user has already located a document of interest in any available views during a prior session, and this Startup option is not enabled, the user will be returned to the root folder of the last selected view rather than to that same document of interest. Not ideal, so check this option!
Remember Last Document between Views
When a user uses the Search function in the Meridian PowerUser, the results are listed in a special view entitled "Find Results ."If the user then selects a document in the "Find Results" and changes the view back to "Folders," and this Startup option is not enabled, the user will be returned to the root folder, and the found document will once again be lost. Also not ideal, so also check this option!
Once both options are checked, click the OK button. The features should be immediately enabled without requiring the user to restart the application.