This spring Autodesk BIM 360 Team and Collaboration for Revit was repackaged and rebranded as Autodesk BIM 360 Docs and BIM 360 Design.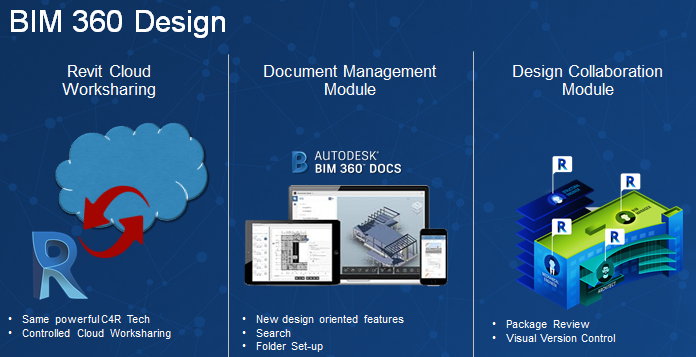 With BIM 360 Platform we can leverage tools to assist with coordination and collaboration from early project conception through construction and project delivery without the need to change cloud shared files from one application to another. This allows greater flexibility with access to more tools on the BIM 360 Cloud platform and greater flexibility managing project member's permissions.
If you are currently working on projects that require 2018, 2017 or 2016 you can continue to use BIM 360 Team and Collaboration for Revit. If your project is on 2018.3 or 2019 you can begin to use the BIM 360 Docs and BIM 360 Design.
Note: The Revit 2018.3 plugin provides access to projects set up with either Collaboration for Revit or BIM 360 Design while Revit 2019 will only see project setup with BIM 360 Design.
Although the principal of cloud sharing and real time collaboration continues with BIM 360 Docs and BIM 360 Design there are some distinct changes. These changes are primarily on the BIM 360 Docs side. BIM 360 Docs is the basis of BIM 360 Platform and is where users can load, access and view project files, replacing BIM 360 TEAM.
Another benefit of BIM 360 Docs is the additional user permission levels that are available. This has been a highly requested feature. We can now define default access permissions when people are added to a project as well as manage project member's permissions by User, Users Role (i.e. engineer, designer), Folder and File.
The tools for viewing, mark ups as well as version compare are still an integral part of BIM 360 Docs.
With inclusion of BIM 360 Design (formerly Collaboration for Revit) there are additional tools on the BIM 360 Docs Design Collaboration Dashboard. You can see the current coordinated models based on the latest published files from Revit. You can see a history of the published models and compare the various versions.
Project members can view their group's history of published Revit models, verify that they have the latest model linked for coordination from other disciplines and non-Revit users can view the coordinated model as well as published sheets.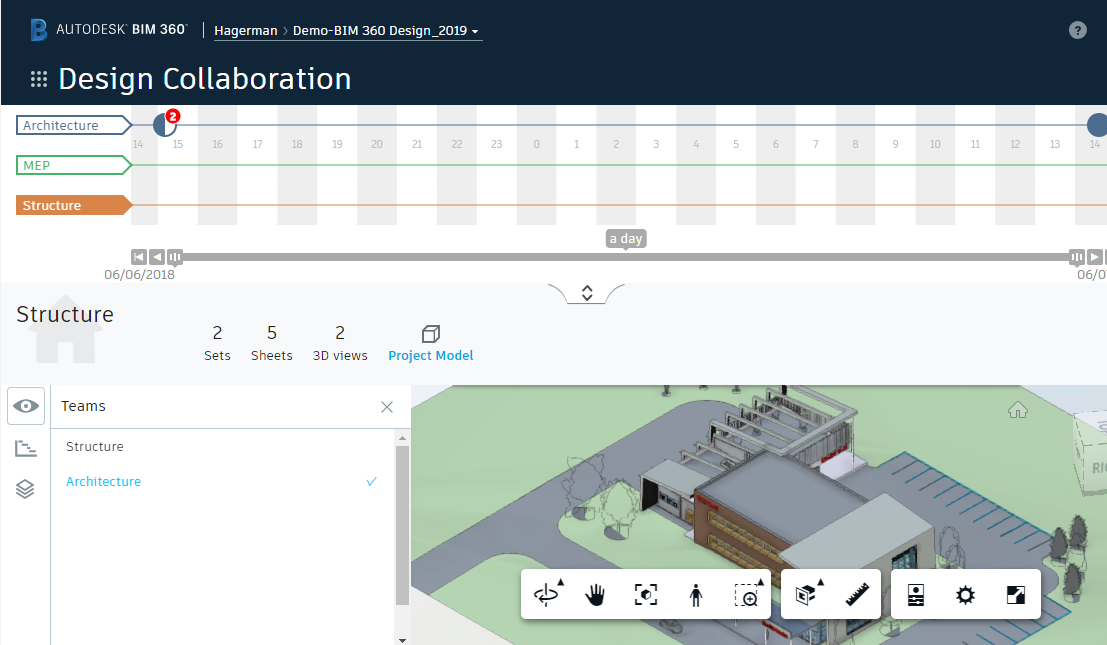 One loss in BIM 360 Design was the Communicator chat tool. It is not supported on the BIM 360 Design Revit Cloud Worksharing. However, you may continue to use Communicator with Revit 2018.3 and earlier releases in conjunction with BIM 360 Team.
Autodesk is looking for other ways to satisfy this communication workflow need in the future.
For more information on the BIM 360 Platform, BIM 360 Docs and BIM 360 Design
Autodesk Knowledge Networks BIM 360 Docs – Learn the basics
Sign up to attend a webinar: Get Started with BIM 360 Design.
Autodesk Knowledge Networks Autodesk BIM 360 Design – Learn the basics and master the techniques