When working with Meridian for your document management, there are built-in tools to help make your everyday work easier. Whether you are working in a CAD program or Office program, add-ins make your connection and work in Meridian seamless (meaning you don't have to keep switching back and forth between applications.)
Let's take a look at just a few.
Autodesk®Inventor®
Autodesk Inventor comes with an integrated ribbon that allows you to perform a number of functions within the browser panel and ribbon.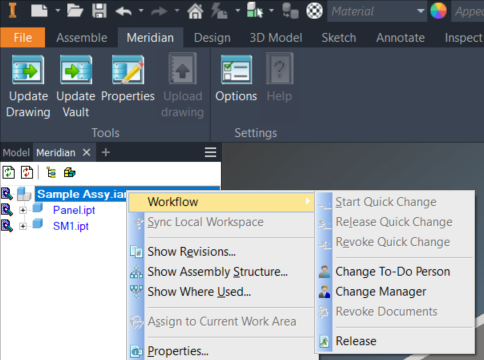 The Meridian ribbon allows you to update drawings, update the Vault and even look at the stores properties of the file with Meridian.
The browser panel allows you to access many of the functions and information within the Vault. These include workflows, revisions, assembly structure (including where used), and more.
Meridian is also integrated directly into the Open/Save dialogs: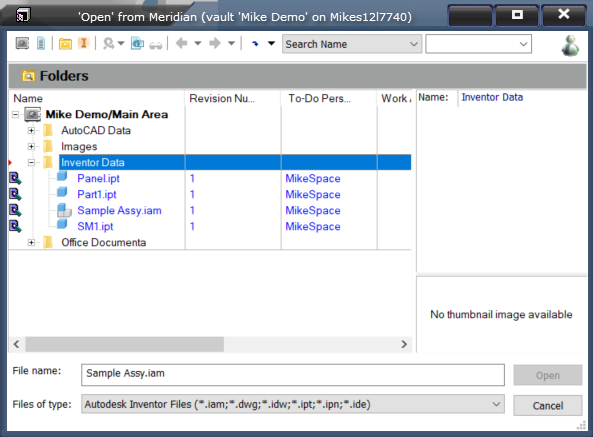 AutoCAD®
AutoCAD comes with an integrated ribbon similar to Autodesk Inventor.

From here, you can edit the properties and update the Vault or the drawing, which will allow you to work with Sheet Sets and update project information or route all the drawings if needed.
Using the Rout All command, you can quickly create editable documents without switching back to Meridian.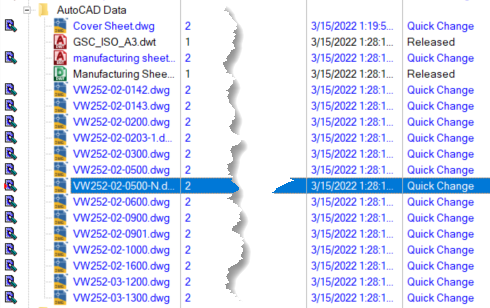 Microsoft Word
In Word, Meridian is integrated into the list of places you can open from or save to.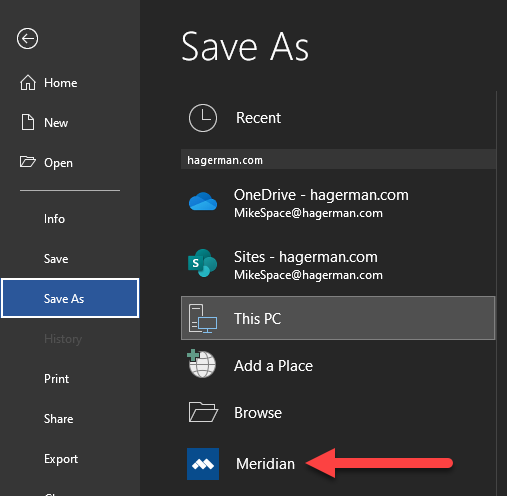 The Add-Ins ribbon also contains tools to allow interaction with Meridian functionality.

If you do not see the Meridian functions in your program, talk to the team that helps with your software and get the "Application Add-Ins" added to your Meridian installation. You will be glad you did.