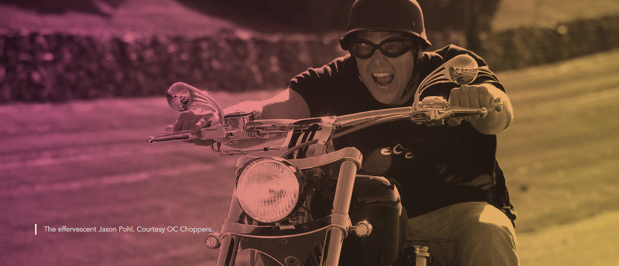 When people ask Orange County Choppers Lead Designer Jason Pohl what he does for a living, he says: "Well, I draw pictures of motorcycles, and then I color them in. So, in a way, I get paid to color." Pohl, if you couldn't tell, isn't afraid to have a little fun at his own expense.
What Pohl does is actually much more elaborate, involving research and development, conceptual sketching, 3D modeling, and photorealistic rendering of design ideas. And once client-approved designs are ready for fabrication, Pohl moves on to the CNC programming and machining of the unique, complex components that comprise a one-of-a-kind bike from Orange County Choppers (OCC).
Even if your motorcycle knowledge isn't all that vast, OCC is likely on your radar. The motorcycle manufacturer and lifestyle brand's custom-built bikes have been featured on the reality show American Chopper and the eponymous CMT show Orange County Choppers. OCC's designs, as Pohl will tell you, get pretty "out there." One of the company's most famous bikes, designed for the opening of its Beijing showroom, is wrapped in a 10-foot-long golden dragon with 3D-printed parts.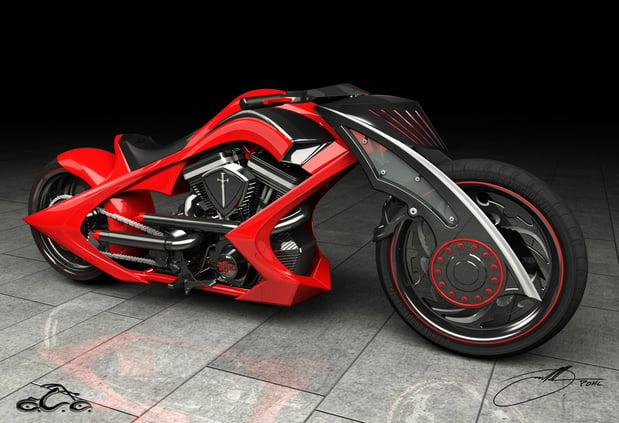 A rendering of one of Jason Pohl's projects. Courtesy OC Choppers.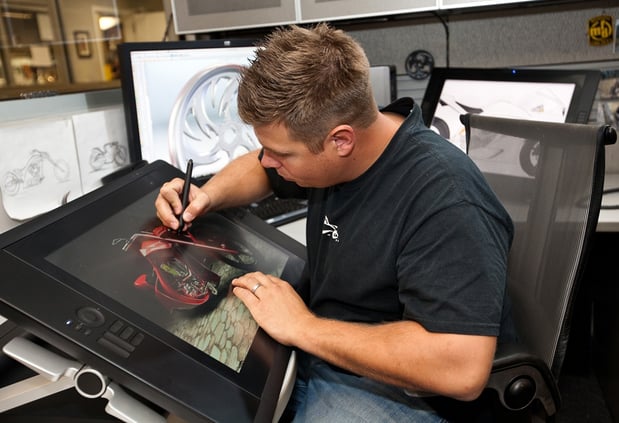 Jason Pohl drawing on a Wacom Tablet. Courtesy of OC Choppers
For Pohl, an art-school graduate who began his career as a video game animator, the transition to custom bikes presented itself as an opportunity to make lasting art. "I wanted to make something that I could pull out of a garage 30 years from now; rip off the cover; and be like, 'It's still cool,'" he says. "And that's one thing that choppers are: They're timeless. They're long, they're chrome, they're bold, and they're unique."
Here, he speaks about motorcycles, art, giant elk skulls, and the exhilaration of making things.
How would you describe your general approach to design?
Complete chaos, mayhem, not really organized, not really methodical.
Do you sketch, or do you start everything in the computer?
I sketch. I'm a fine artist. My background is in painting and drawing, so I start every project with a No. 2 pencil, the cheaper the better; maybe a stick of charcoal if I'm feeling frisky; and paper. It's really just quick conceptual sketches, and I just blast out, like, 10 in a row. Sometimes, it's half a bike; sometimes, it's just a headlight or a frame. Then, when I get something that I like, I zero in on it and take a picture of that one. Then I'll go into Photoshop or SketchBook Pro, and I'll start drawing it and adding to it—add color to it real quick.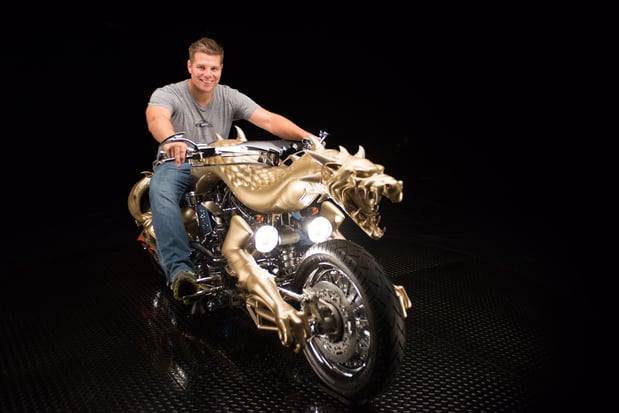 Jason Pohl on the dragon bike sent to clients in Beijing. Courtesy OC Choppers
What's your favorite part of the design and manufacturing process?
My favorite part is definitely the beginning—the initial talk, the initial handshake. You kind of get nervous, like, "I don't know if I can pull this off." And it reminds me of Little League when I was kid, and everyone is watching. You get in the batter's box, and the pitcher is in the windup, and here comes the ball, and you have the feeling kind of like butterflies; your nerves get going, and you're like, "Okay, let's do this." Then, you just shut your eyes and swing.
What's your least favorite part of the process?
Saying goodbye to the project when it's done. I understand it's a business—trust me, I get it. I have a mortgage to pay, and we've got to make money, and, no, I don't want all these bikes hanging out and then be broke. But when they're gone, it's so final. Some of these bikes get sent to Beijing, China. I don't know if I'm going to make it to Beijing to see that dragon bike ever again. I don't want to sound frail, but it's kind of sad when they're gone, because you pour your heart and soul into them.
What's the craziest thing a customer has ever requested on a bike?
A couple of my hunting buddies were sitting around a campfire in Colorado, and they had a crazy idea to make this giant elk skull on the front of a bike for their crossbow company. It's pretty exotic, and it's kind of hard to picture, but on this huge 10-foot chopper, there is this 6-foot European elk-skull mount. It's 13 pieces of aluminum machined and then welded together and blended out. It's all polished, and it looks really good.
How does that affect the engineering on the bike?
Good point. We knew we couldn't just put the giant skull and antlers on top of the bike because it would affect the steering and it would be too heavy on the handlebars. What we ended up doing was welding a stem off of the neck, so the antlers actually don't twist when you turn the handlebars; they're fixed on the frame. So all the weight goes down to the frame, and it was just a smart way of doing it. Could you ride that bike to Sturgis [Motorcycle Rally in South Dakota] and back? Yeah, absolutely, but you might catch a few birds or snag some other wildlife on the way.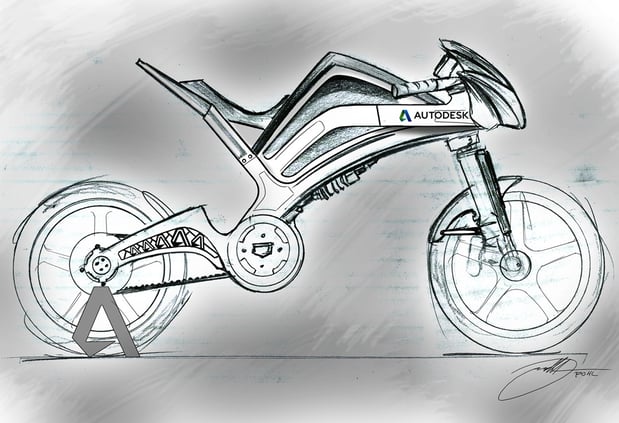 Initial drawing of the Autodesk bike, using Fusion 360 software. Courtesy OC Choppers.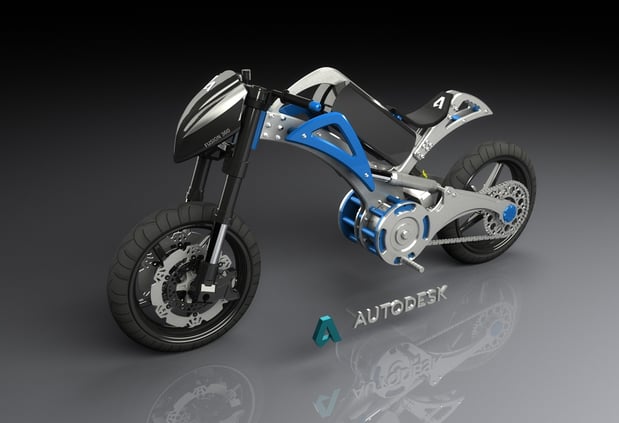 Rendering of the Autodesk bike. Courtesy OC Choppers.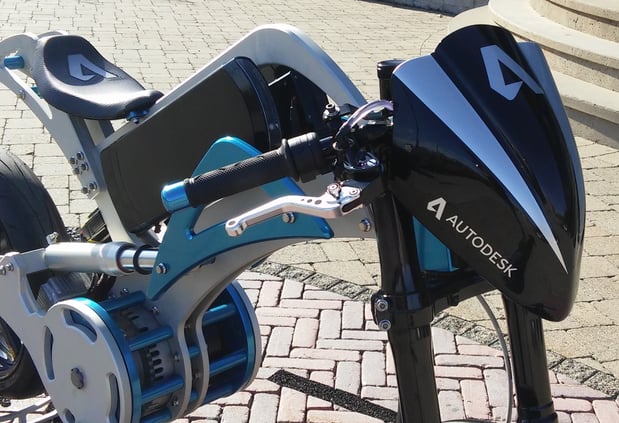 Photo of the finished bike. Courtesy OC Choppers.
Has any other bike presented a unique challenge in design or manufacturing?
We just finished the Autodesk bike, and the scariest part about it is, I tried Fusion 360 to create it. Making that jump was nerve-racking. It's a whole new level of craziness, and I love it—we live in complete mayhem at Orange County Choppers, so it's cool. This new software just allows me to be that much more creative and work that much faster and get to the end result quicker. So I'm glad I jumped in the deep end of the pool and tried something new.
How has design changed at OCC in the 13 years you've been there?
It used to be like, "Hey, give me that torch," and you literally just cut stuff with your hands, which is cool. I still love experimenting with stuff, but we developed more structure; we evolved, and better products came from it. We've grown a lot. It was a wild ride, and being on television in 164 countries, we certainly get access to some cool machinery and some cool stuff.
What does the future hold for you in designing and manufacturing bikes?
[OCC founder Paul Teutul Sr.] and I and our team have started a parts line. We're going to do bolt-on Harley Davidson parts that anyone can buy. That's in production now, but we've never thought in that mode of manufacturing—we've only made one of everything. It's fun because it's the start of a project, and we're learning how to outsource the powder coat, the chrome. We're going to do the packaging in-house and produce the parts in-house. We're learning to survive, and that's what we have to do.
This article appeared on Redshift and was written by Jeff Link. Jeff is a graduate of the Iowa Writers' Workshop and an Eddie-nominated journalist. His work has appeared in Landscape Architecture Magazine, gb&d, Redshift, and American Builders Quarterly.