Accruent, a leading provider of workplace and asset management solutions, hosted its highly anticipated annual Synergy partner conference, an event that brings together industry leaders and partners to celebrate innovation, success, and collaboration. The partner conference, held on August 9th, was also an opportunity to recognize and honor exceptional partners that have demonstrated outstanding achievements during the prior year.
This year's conference was unique in that it was combined with Accruent's annual customer conference – Insights Nashville 2023 – on August 7th and 8th. Insights 2023 Nashville hosted more than 500 professionals from a broad range of industries with the opportunity to gain product knowledge, share best practices and network with their peers.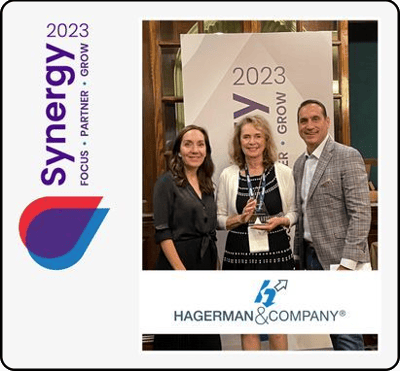 Honoring Excellence: Accruent Partner of the Year
During the Synergy conference, Hagerman & Company received the top award of Partner of the Year for their significant contributions to the success of both Accruent and its customers. This award is given to an Accruent partner that demonstrates consistent success, remarkable growth, and an unwavering commitment to exceeding customer expectations.
A Vision Fueled by Partnership
"We are grateful for all our partners' pivotal contribution in bringing our vision of unifying the built environment to fruition," said Pete Mansel, Chief Sales Officer, Accruent. "They are a key part of our strategic plan and will continue to enhance the value of our intelligent solutions for customers across the globe. We are proud to have this year's winners as part of our partner ecosystem and look forward to our continued success together."
"We were honored to receive the Accruent Partner of the Year Award during the recent Synergy conference held in Nashville. Hagerman & Company is dedicated to the success of our valued customers through the delivery of cutting-edge software and professional services that cater to their unique business needs."