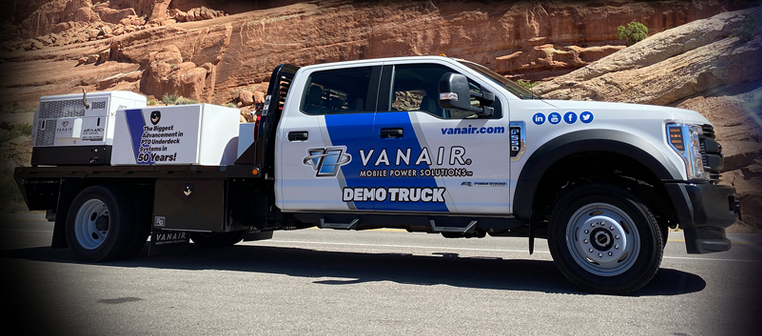 Customer Challenge
Vanair developed a new separator tank design for their PTO-powered compressed air system. The CEO then requested a new pre-heating system for cold weather applications. Previous systems used heating blankets which took too much electricity and time. The new system directs the hot engine-cooling fluid through the separator tank and control manifold, enabling the system to warm up before reaching the job site. Vanair needed to show customers with cold-weather applications how the new system worked.
Project Goals
The goal was straightforward: Create a video/animation indicating that hot coolant fluid flows through a heating element submerged within the tank's compressor oil and within the air control manifold. The process needed to show that the heat transfer is direct - as opposed to working through a cold steel tank and valve body before beginning to heat the compressor oil and valve's internal working components.
Solution
After taking Autodesk Inventor training with Hagerman Solutions Engineer Kendred Cooper, John Cunningham with Vanair knew if anyone could help them with this, Kendred could. "We discussed my specific need in detail and he created a video showing the fluid flow process within Inventor. You don't see that level of customer service very often. But you get that every day with the folks at Hagerman." -John Cunningham, Vanair
Business Outcome
Autodesk Inventor enables Vanair to show processes, components, and the inner workings of equipment not possible with a video camera. They can digitally showcase a single piece of equipment, its key components, and how the unit works. With fewer physical trade shows, they've used Inventor to create a digital tradeshow booth to showcase several pieces of equipment for an ever-growing web-based audience. When time is critical, Inventor enables them to design and model parts and assemblies quickly.
Conclusion
Vanair received excellent training with Hagerman and has called on them for subsequent support. "This particular engagement definitely had a great impact on my company. But it was really just Hagerman's people doing what they do best. That type of customer service, the talent pool of personnel and the services they provide are something I appreciate more than I can express." - John Cunningham, Vanair

About Vanair Mobile Power Solutions
With over 44 years of experience, Vanair® provides the best-in-class product offerings, installation and service training. With well over 70 standard products, Vanair offers the most comprehensive line of Mobile Power Solutions™ in the industry.