Troubleshooting the Autodesk Network License Manager (NLM) can be confusing, with all of the different error messages and various codes. One of the most common reoccurring themes is testing whether the network ports are open to both the client and the server itself. The Autodesk software needs to have access to two separate ports to work properly. One is the master daemon port, which is typically 27000 (but can typically range from 27000 to 27009) and the other is the vendor daemon port, which Autodesk has been officially assigned 2080. If you have changed the default ports in your license file, then you will need to note which ports are being used when verifying if they are open.
A quick little trick to test this is to use Internet Explorer. Although the test sometimes works with other browsers, Internet Explorer will yield the best results for this tip. Assuming your NLM is up and running, simply type the following into your address bar and submit it for a quick result:
-and-
Note: You will need to change servername to the actual hostname of your server. If the ports are open then you will be greeted with some garbled code that looks similar to this:
Wê-60Wê-60Wê-60Wê-60Wê-60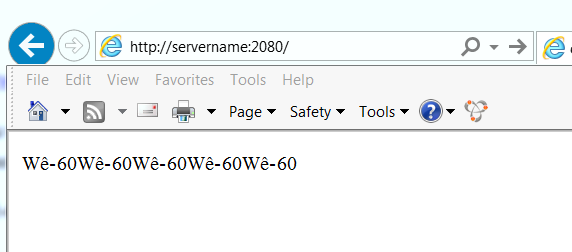 Congratulations, you've just verified that your ports are open! If you received an error, "Page cannot be displayed" then those ports are likely being blocked by a firewall or other Internet protection measures.
When troubleshooting the Autodesk Network License Manager, it is always good to try this little trick first. It can save you a lot of time and frustration.
Keep an eye out for other quick tips from me!