In the coming months, I will release regular blog posts related to Upchain. Each post will cover a different topic and educate you on the functionality of Upchain. You may be asking yourself, what is Upchain? Upchain is a fully featured cloud-based product lifecycle management (PLM) and product data management (PDM) solution. It has everything you need in a PLM and PDM solution. There are tools for real-time collaboration, cad integration, change management, project management, markup tools, and much more. Upchain has plugins or "CAD Connectors" for many popular CAD packages like AutoCAD®, AutoCAD® Mechanical, Autodesk® Inventor®, SOLIDWORKS, CATIA, and more. (Go to this link for a complete list.) For more information on Upchain, check out my colleague's YouTube video here.
Today I will be discussing Upchain BOM functionality. Upchain has four types of BOMs-cBOM, eBOM, Project BOM, and sBOM. Let's look at each in more detail.
cBOM
The cBOM, a.k.a. the CAD bill of material, is the BOM contained in your CAD software. Most of the time, each part and assembly file will be associated with an item in Upchain. (Some exceptions could be a phantom, skeletal, or reference model.) The image below is Autodesk Inventor with the Upchain plugin, a.k.a "Upchain CAD Connector ."In the model browser, the Fishing Rod Assembly contains two sub-assemblies, the Rod Assembly and Fishing Reel Assembly. The Upchain browser cBOM shows the cad files represented as items.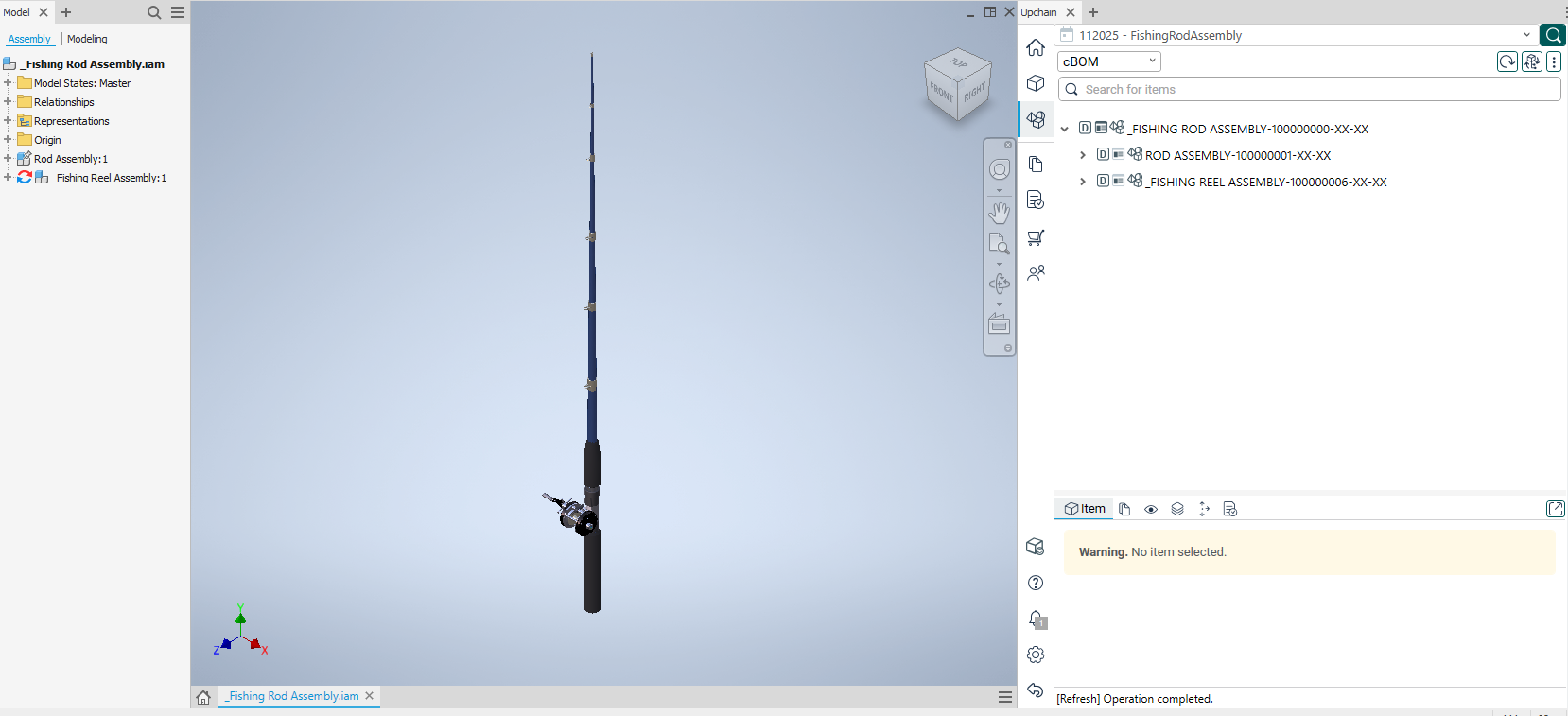 eBOM
The eBOM a.k.a. the engineering bill of material, is the design represented in Upchain. It can contain items that do not appear on your cBOM or items that do not have a cad file. A few examples are grease, shipping box, or software.
You can think of the eBOM as the cBOM plus any additional items to fully assemble the final product. The image below is from Upchain as viewed in a web browser. It shows the eBOM that includes the cBOM, lube, shipping box, and fishing line, which are all needed to assemble and ship the final product.

Project BOM
The project BOM includes all eBOMs plus any other items that are needed for the project. We have included an additional Fishing Reel and Fishing line in this image.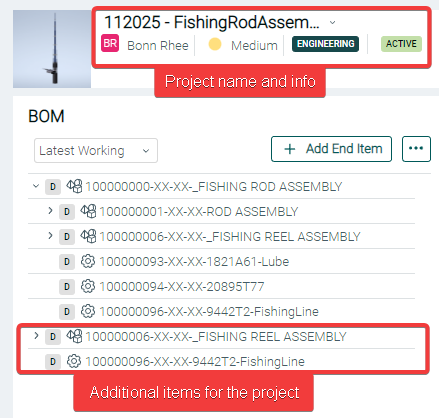 sBOM (optional)
The use of the sBOM a.k.a. the service BOM is optional. It can be used as a BOM that includes special tools or fixtures needed for the assembly or servicing of the product after it has shipped. In the sBOM below, the only item on the BOM is a Torx driver set needed for the reel assembly.

Many companies struggle with BOM management. Hopefully, with this one example of BOM management, I have shown you how Upchain's different BOM types can help your company overcome some of these struggles. If my example isn't exactly how you handle your BOMs, there is some flexibility in Upchain. It can probably be customized to suit your needs.