In the upcoming months, I'll release monthly blogs related to Upchain. Each blog will cover a different topic and hopefully educate you on the functionality of Upchain. You are probably asking yourself, what is Upchain? Upchain is a full-featured cloud-based product lifecycle management (PLM) and product data management (PDM) solution. It has everything you need in a PLM and PDM solution. There are tools for real-time collaboration, cad integration, change management, project management, markup tools, and much more. Upchain has plug-ins or "CAD Connectors" for many of the popular CAD packages like Autocad, Autocad Mechanical, Inventor, Solidworks, CATIA, and more. (Go to this link for a complete list.) For more information on Upchain, check out my colleague's YouTube video here.
Home Page
This article is Part 2 of this blog series and will be about Upchain's interface. When you first log in to Upchain, you will land on the home page. The home page shows your active projects, activity stream, favorite items, and assignments. It is clean and modern and gives you quick access to your projects, items, and tasks.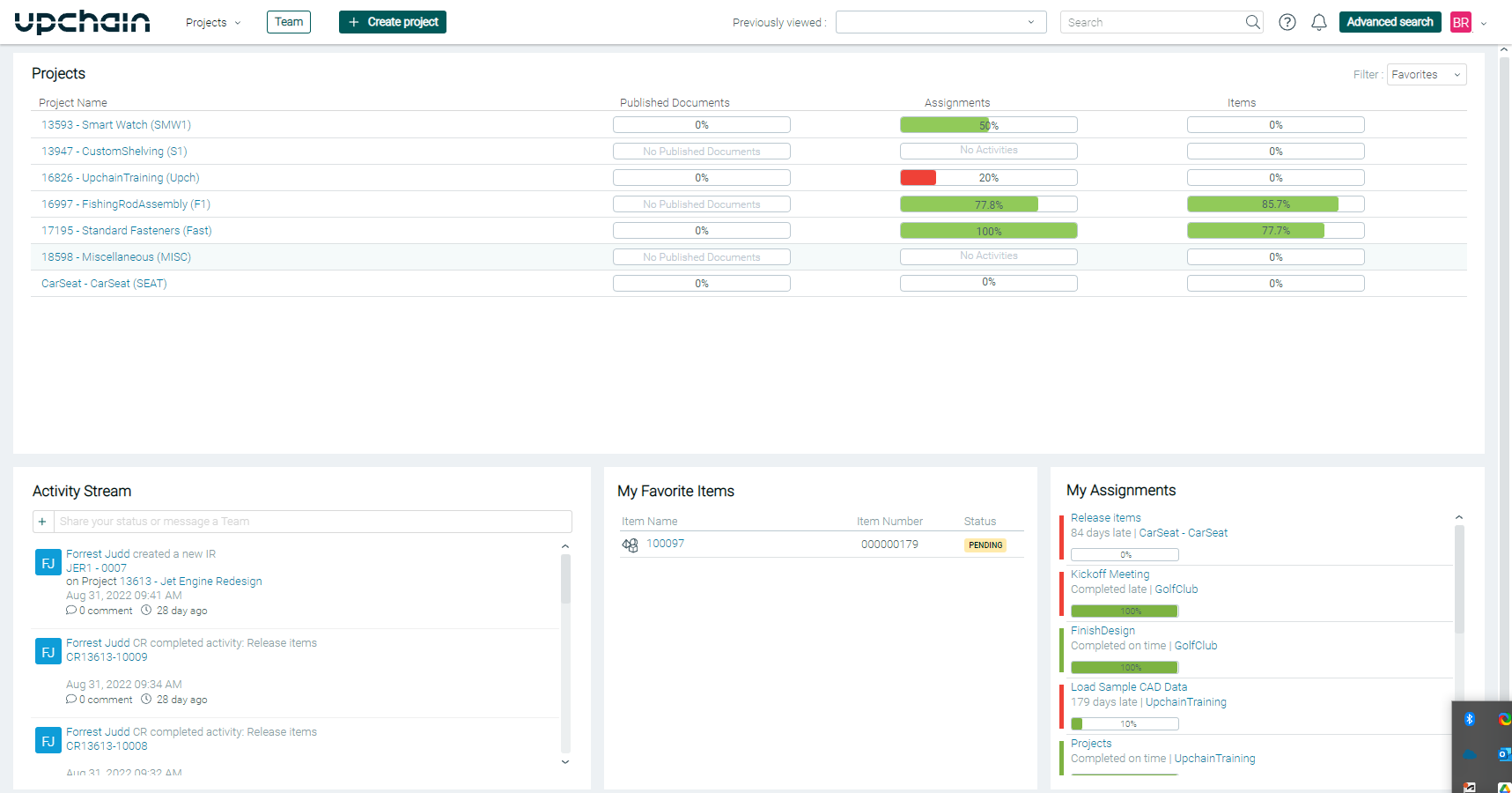 Projects
Lists all projects that are active and of which you are a member. You can also see the percentage of assignments that have been completed for each project. The items column shows the percentage of items that have been released for each project.
Activity Stream
The activity stream displays a chronological overview of all activities in your project. You can track who is doing what. User names, project names, change requests, etc., are hyperlinks taking you directly to the respective page. You can even comment on a project on the fly.
My Favorite Items
Any item that is frequently viewed or needed can be marked as a favorite and will be displayed here.
My Assignments
Included with Upchain is a project management system that allows you to create and assign tasks and milestones. You can view graphs and Gant charts to help manage your project. My assignments will show tasks assigned to you with hyperlinks.
Viewing Projects
On the left side of every project, there is a project sidebar that contains the four main project views. These views are BOM, project management, business processes, and documents. The bottom gear icon is to manage project settings.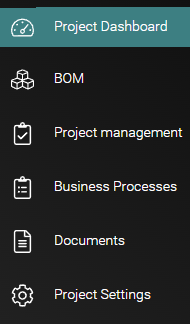 Project Dashboard
Clicking on a project from the home page will take you to the Project Dashboard. It will display the overall progress of the project. You can see what percentage of assignments have been completed and are critical and overdue.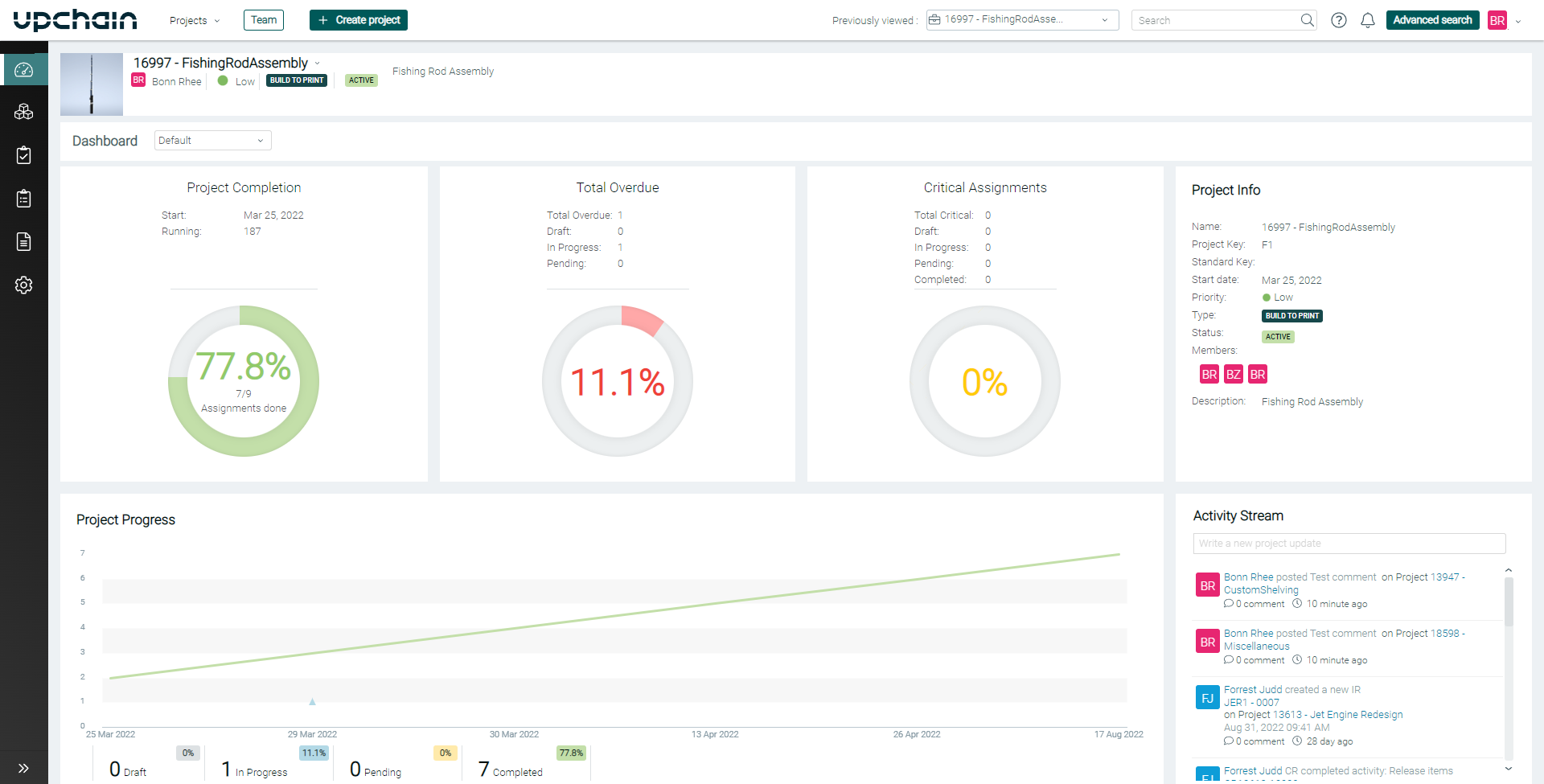 Project BOM
The Project BOM shows all items that are needed in this project. To complete this project, we will need the five items shown below. (For a more detailed explanation of Upchain BOMs, see my previous blog post.)

Project Management
The Project Management tab shows a detailed view with a Gant Chart of the assignment's column found on the home page. You can see all tasks, milestones, and deadlines along with the responsible party. (Using Project Management is optional.)

Business Processes
Business Processes in Upchain can be used to track your Investigation Requests, Change Requests, Change Notices, or a similar QA process. The workflow and routing can be customized to suit your needs. In my example below, all I have are Change Requests for this project. (Using Business Processes is optional.)

Project Documents
Project Documents can be used to store any document related to the project, but this shouldn't be confused with documents associated with a particular item. For example, assembly instructions would be more appropriate as an item on the eBOM or as an attached document to the assembled item and not as a document on the project level. In my example below, I have included a packing list and the original purchase order.

Project Settings
Project settings give you options to rename the project, close or archive it and decide whether it's public or private. You can also view project members and their roles. If you have the appropriate role, you can even add other members.